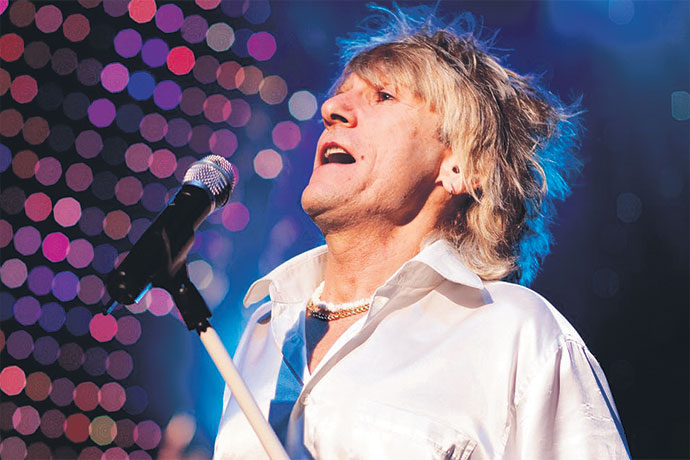 It was 2002 and the world was in the midst of the 'War on Terror'. One place that was the prime target for Coalition forces was Afghanistan – the very same place Canadian-born Rod Stewart tribute artist, Dave Battah, decided to tour his internationally renowned show.

"Performing in Kandahar, Afghanistan, was one of the highlights of my career in 2002," Dave told FYI.
"All through the 90's I did the military entertainment tours throughout Egypt, Israel, Cyprus, Bosnia and the North Pole, entertaining troops from all over the world. I always feel very proud to be able to bring peace and relaxation to these troops."
Dave said he rarely feels nervous performing in some of the world's most dangerous and volatile places.
"I've never been nervous doing any of these military shows," he said.
"First off we have military escorts and we fly over in military aircraft. I've never been frightened because I've always loved that type of thing."
Dave got his start playing the man known as 'Rockin' Rod' more than 20 years ago after performing one of Stewart's songs in a cover band.
"I wasn't a Rod Stewart fan to begin with but after performing one his songs one day on stage my agent said, 'You should do a tribute'," Dave recalled.
"So lucratively I decided to put a Rod Stewart tribute show together and from there I became a fan."
The British-born Rod Stewart is one of the most popular artists of all time, selling in excess of 100 million records worldwide.
One thing that makes the ladies (and some men) swoon is Stewart's uniquely raspy voice – which is probably the most challenging element for impersonator Dave to replicate.
"I spent most of my career… copying other people's voices. Whenever I performed a cover [song] I'd always like to try and do the voice of the artist who was singing it," he said.
"With Rod Stewart, he has a deceivingly high voice and with a rasp on there. Even with the show together I was still perfecting it and it took me a couple of years to get it right."
Dave said even to this day he is developing Stewart's voice.
"It's pretty well-developed but I sometimes hear him do new things when I revisit some of the songs and I'm conscious of it," he said.
"It's always going to be a work in progress but I'd say it's mostly developed now considering I've been doing it all over the world since 1990."
But what does the man himself think of it all? By chance, Dave met Rod Stewart's band when they were visiting Toronto for a concert at the Skydome. They were so amazed by his likeness to Stewart that they invited him backstage.
"We were in the same room before the show and his band said Rod wanted to meet me," Dave recounted.
"I was watching him across the room when all of a sudden the stage manager came in and dragged everyone on stage. However, the band came up to me and said, 'he was flattered at what you do'. I'm not planning on hunting him down or anything but I would like to meet him one day."
Dave is regarded as one of the best impersonators in the world. He even spent many years living in Las Vegas performing as Rod Stewart and sharing the stage with Elvis, Cher, Tom Jones and Neil Diamond impersonators in the Imperial Palace's highly successful, long-running 'Legends in Concert' show.
Dave is currently on tour in NSW and on February 8 will be bringing his spectacular two-hour live show, 'Forever Rod', to the EVAN Theatre, Penrith Panthers.
Dave said he'll be performing all of Stewart's biggest hits including material from the hugely successful 'The Great American Songbook' collection.
"Rod won multiple Grammys for his 'American Songbook' catalogue, so I can't ignore them in the show but we mostly stick to the old classics that he released during the 70's, 80's and 90's.
"The three most popular songs on tour are always 'Maggie May', 'Do Ya Think I'm Sexy' and in Australia, 'Sailing' is also very popular."