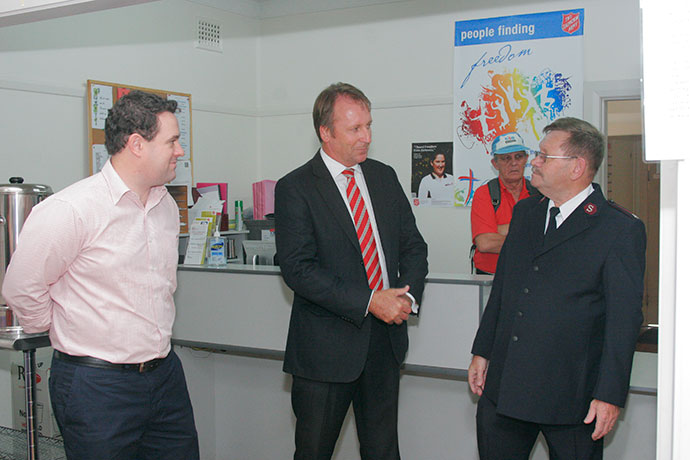 Local residents who suffer from drug and alcohol addiction are set to have increased access to treatment and rehabilitation services after State Government funding for the Salvation Army was announced this week.

On Wednesday, Minister for Mental Health and Healthy Lifestyles, Kevin Humphries visited Penrith Salvation Army along with Member for Penrith, Stuart Ayres to announce that the NSW Government would provide the organisation with substantial funding to run a new program that will help drug and alcohol dependent people to rid themselves of their addiction.
"Penrith is the recipient, through the Salvation Army, of $427,500 over three years and that is to support a Day Program," Mr Humphries said.
"There has been significant demographic work done to know that the western part of our city, the Sydney catchment, needs more resources, needs more services."
The new Penrith-based Day Program will be primarily for people currently on Opioid Substitution Treatment and who want to live drug free.
Major David Pullen, Director of Recovery Services at the Salvation Army, is looking forward to seeing people who are recovering from addictions be re-integrated back into the community.
"It is exciting to think that people that have been subjected to the constraints that methadone and opioids have put on their lives will find release with the funding that has been provided," Mr Pullen said.