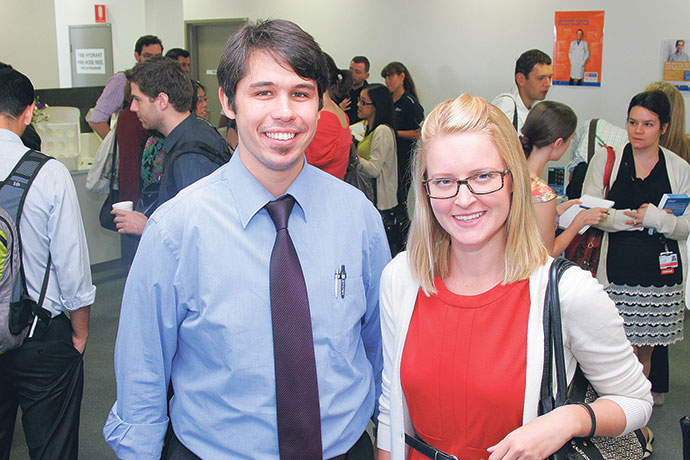 After an intake of 54 new medical interns to Nepean Hospital, local residents can be assured that their health is in good hands.

For many of the budding doctors, surgeons and specialists, after many years of study, beginning their internship will be a refreshing start to the year.
Nepean Hospital welcomed the students on Wednesday, January 16, ensuring that their first impression of their new workplace is a positive one.
"As their first employer basically, it is an experience that lives with you for your life – you always remember that first day at work," said Nepean Blue Mountains Health District Chief Executive, Kay Hyman.
The interns are about to begin their first year of full time work with Nepean Hospital where they will gain a broad experience and eventually move to specialise in a specific field of medicine, surgery and emergency.
"This is a teaching hospital. We play an important role in their lives and they play an important role in the life of the hospital," said Nepean Hospital General Manager, Kevin Hedge.
"As a teaching hospital the role that we play is in their training and introducing them to specialty. As interns they play important roles in the medical care of patients."
There were mixed feelings amongst the new interns at their orientation on Wednesday, however it was clear that the idea of finally beginning work was causing excitement for all.
Kathryn Brooker, 26, studied at the University of Sydney for eight years and hopes to one day specialise in critical care and anesthetics.
"We're obviously the most junior doctors and it will be a big learning curve coming from studying full time to working," she said.
"It's exciting, it's really exciting to have finally achieved something that I've been studying for, I've been at Uni for eight years, it's really nice to finally feel like I am getting my foot in the door but there is still a long way to go."
"I wanted to be in a position where I could actually help people without them having to be suspicious of a 'hidden agenda', that there is something in it for me," added 26-year-old medical intern Doruk Seyfi.