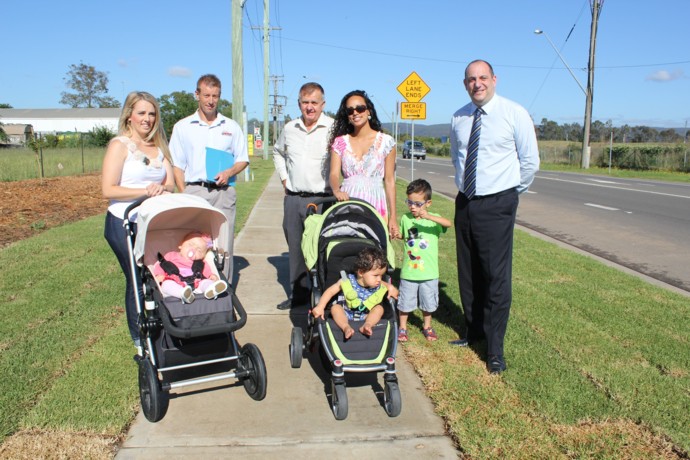 North Penrith residents can now step out with confidence with a new path built recently in Lambridge Place, North Penrith.

Penrith Mayor Mark Davies visited the path and acknowledged the outstanding contributions of local companies JK Williams and Western Suburbs Concrete, which together with Penrith City Council have completed pathway and landscaping works at Lambridge Estate in record time and at a reduced cost to Council.
Mayor Davies acknowledged the value of the path for the local community.
"I'm grateful to JK Williams and Western Suburbs Concrete for their outstanding contributions to Lambridge Estate pathway and landscaping works," he said.
"As a result of their combined efforts with Penrith City Council, residents – including young families from nearby Waterside Estate – can now access nearby pool and café facilities more safely and easily."
About the works:
· Approximately 450m of path (1.5m wide) was constructed in just one day thanks to JK Williams employing latest technology – its new $750,000 path and kerb machinery. The completed path is a total 600m and includes the entire length of Lambridge Place as well as along the south side of Andrews Road from Lambridge Place to Castlereagh Road.
· The path works were finished in two working days – instead of three weeks had regular machinery been used.
· JK Williams provided the plant, machinery and labour. Western Suburbs Concrete provided the materials. Council carried out tree planting, backfilling, turfing, linemarking, AC path works and supervision of the work site.
· As a result of this effective collaboration – increased productivity and pooling resources – the works have saved ratepayers $65,000. The completed works will benefit young families from Waterside Estate who now have safe access to their pool and café facilities.