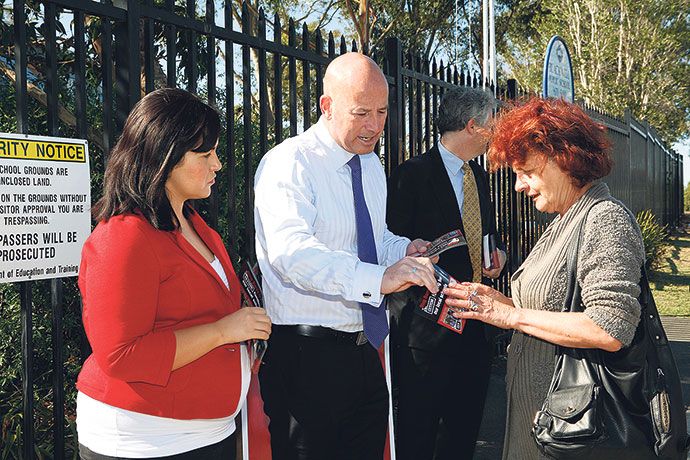 NSW Opposition Leader John Robertson has brought his '40 schools in 40 days' campaign to St Clair to fight the State Government's $1.7 billion education cuts.

Mr Robertson and Penrith City Councillor, Prue Car, campaigned outside Blackwell Public School in St Clair on Wednesday morning, encouraging local parents to sign a petition against the budget overhaul.
"These cuts are going to be felt by students for decades," Mr Robertson said.
"Because the Government is cutting funding we are soon going to see teachers' aids removed from classrooms for kids with special needs."
Mr Robertson said parents are very concerned their children won't get the high level of education that they deserve.
"Parents are very worried about the funding cuts because they know these cuts directly effect their son or daughter and the education they are going to get," he said.
Next year local grandmother Iris Meehan will have four grandkids attend Blackwell Public School. She said she was very unhappy with the talk of cuts to education.
"I reckon it stinks," she said.
"Education is more important than any other issue at the moment. I'll soon have four grandkids going to school, it's totally wrong."
Mulgoa MP, Tanya Davies, has defended the education cuts.
"It is regrettable that these changes are required, however unlike the previous government we will not shy away from making the difficult decisions to get this State back on track," Mrs Davies said.