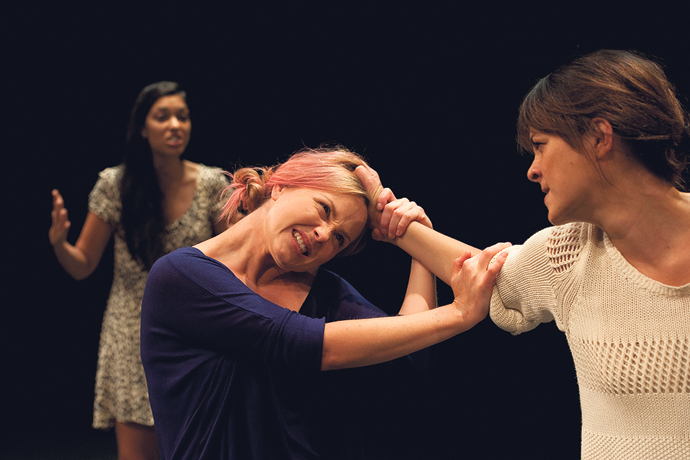 The Q Theatre Company has picked up four nominations for the prestigious Sydney Theatre Awards for 2012, including Best Direction of an Independent Production for Q Theatre Company Producer – Katrina Douglas for her acclaimed production of the Lachlan Philpott play, 'Truck Stop'.

Nominations were announced last Friday and were spread across 36 different productions which played on Sydney stages during the calendar year of 2012.
'Truck Stop' picked up the fourth highest amount of award nominations and is in terrific company with 'Chitty Chitty Bang Bang', 'Hamlet', 'Les Liaisons Dangereuses', 'South Pacific' and 'Strange Interlude' also earning four nominations each.
The Sydney Theatre Awards are presented annually by a group of leading theatre critics to celebrate the strength, quality and diversity of theatre in Sydney.
The Q Theatre Company production of 'Truck Stop' has been nominated for:
BEST DIRECTION OF AN INDEPENDENT PRODUCTION – Katrina Douglas
BEST ACTRESS IN A LEADING ROLE IN AN INDEPENDENT PRODUCTION – Eryn Jean Norvill
BEST ACTRESS IN A SUPPORTING ROLE IN AN INDEPENDENT PRODUCTION – for Elena Carapetis
BEST STAGE DESIGN OF AN INDEPENDENT PRODUCTION – Michael Hankin, with film/video by Sean Bacon.
Q Theatre Company producer Katrina Douglas said: "I'm thrilled that 'Truck Stop' was nominated for four Sydney Theatre Awards. It is a superb play and directing this production was the highlight of my year."
The winners will be presented at a gala ceremony on Monday January 14, 2013 at 6pm at the Paddington RSL.