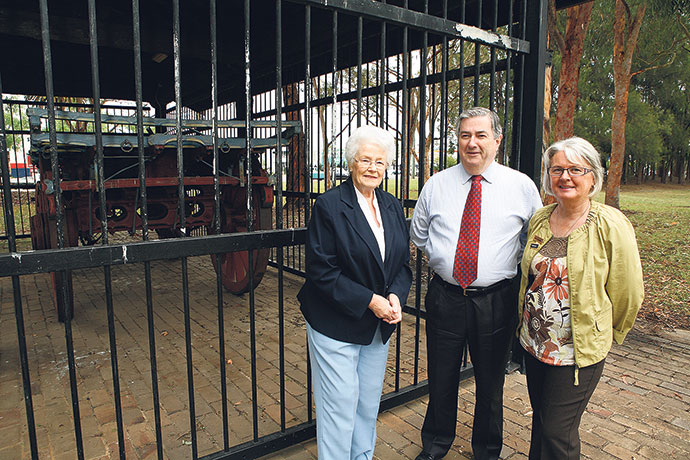 The Bennett Wagons are one of St Marys' most important cultural heritage items but for many years, two of the publicly owned wagons have been in storage at Penrith City Council's nursery.

A third currently sits on display in South Creek Park in St Marys.
But the wagons may become the centrepiece of an historical park in St Marys after the future of the wagons was debated at Council on Monday night.
Council staff provided a report back to Councillors on different options for displaying the wagons and recommended that all three wagons be relocated to Mamre Homestead – a view at odds with the St Marys and District Historical Society, who believe the wagons should all be housed at South Creek Park.
The report stated that: "The Mamre House site provides a 19th or early 20th rural farm setting that is related to the use of the wagons in past times… Mamre House is the most suitable option".
Addressing Councillors though, President of the St Marys and District Historical Society, Caroline Volkiene, said that despite some of the group's members being seventh generation St Marys residents who hold considerable historical knowledge of the area, they were not consulted by Council staff.
"We hold serious concerns about the report and its recommendation to house the Bennett Wagons at Mamre House… the wagons were not [even] farm wagons, they were road wagons," she said.
Fellow Historical Society member, Norma Thorburn, said that the Bennett Wagons belong in St Marys.
"It would be far better to house the Bennett Wagons in South Creek Park, St Marys, where the wagons were actually built," she said.
"South Creek Park is close to public transport and schools and shops so is accessible."
Councillors agreed that South Creek Park is the best site for the wagons and resolved that the wagons be housed in an enclosure sympathetic to the existing structure.
"I personally am quite disappointed in this report and suggest that a further report be brought back to Council on the possibility of establishing an historical park at St Marys," Cr Ross Fowler said.
"The wagons should be housed in South Creek Park and Council should look at funding schemes to build the facility."
The Bennett wagons were built by the Bennett family, headed by James William Bennett and his two sons, who combined their trades as blacksmiths and wheelwrights to specialise in the construction of wagons in the 1880's and became renowned for their crafts across the nation.