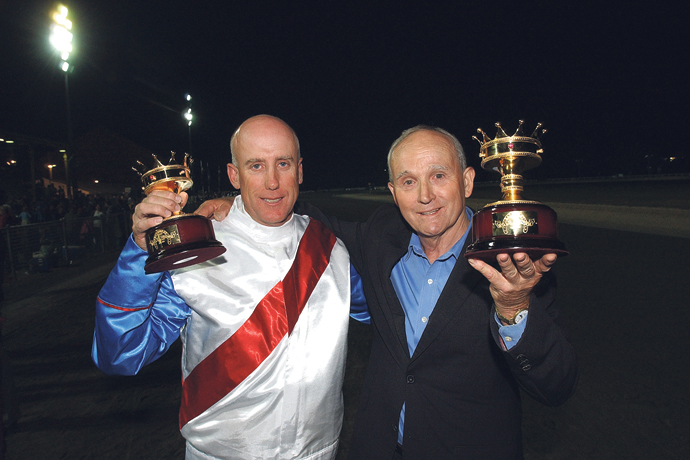 Legendary racing commentator turned harness racing horse trainer, John Tapp, said he's looking forward to being in the thick of the action at next week's Carnival of Cups at Penrith Paceway.

Speaking exclusively with the Western Weekender, Mr Tapp said he hopes to have up to five horses competing throughout the event, including one in the $30,000 main race.
"Chariot King is the star boarder in my stable and he'll be running in the President's Cup," he said.
"Chariot King has won 20 races in his career and has been a very very good horse to us."
Along with Chariot King, Mr Tapp will also race a promising three-year-old filly by the name of I'm Tondelayo in one of the Carnival of Cups' support races.
Mr Tapp has dabbled in harness racing training for many years, even whilst he was the leading caller for the sport.
"I started to train horses in 1978 but for many years I only had a small team of two or three horses at a time," he said.
"In 2000 I moved to a property out near Windsor and upon that acreage I constructed my own training track and stabling facilities. I've been training a much bigger team in the last decade than I ever have before."
Prior to the 71-year-old getting involved in training champion horses on a day-to-day basis, he was once the voice of Australian racing for a whole generation.
It's estimated he called 50,000 individual races across his 33-year career before hanging up his mic and binoculars in 1998.
"I did miss race calling for a while when I stopped because I had been doing it for more than three decades," Mr Tapp said.
"I especially missed it when they jumped in the Golden Slipper or the Derby. I got an adrenaline rush and a tingle up the spine for a while, but I'm over the withdrawal symptoms and my calling days are well behind me."
These days Mr Tapp is still very active in racing media working with the Sky Racing organisation. He currently hosts two shows a week including a harness racing program titled 'In The Gig' and a show called 'Inside Racing' which sees Mr Tapp interviewing high-profile racing personalities.
The Carnival of Cups is at the Penrith Paceway on Thursday, November 15.