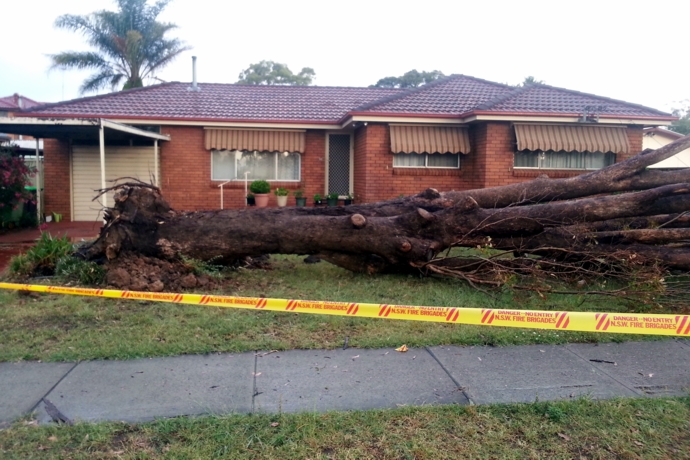 A major storm has swept through Penrith, leaving thousands of homes without power and causing extensive damage to houses, cars and offices.

The late afternoon storm brought with it heavy rain, hail and strong winds, at times as forceful as more than 105km/h.
Most suburbs in the Penrith LGA were hit but early reports suggest that St Marys, Londonderry, Erskine Park, Cambridge Park, Werrington and Cranebrook were worst hit.
Numerous trees around the area came down during the storm, some onto cars and houses.
In the most frightening of the incidents, a man was trapped for nearly an hour in a car on Oxford Street at Cambridge Park. High voltage power lines fell on the car while he was inside, but he was uninjured and eventually rescued.
At one stage 17mm of rain fell in just 10 minutes. Shortly after 4pm, a wind gust of 107km/h was recorded in the local area.
Throughout the storm, local residents turned to social media – including the Western Weekender Facebook page – to keep each other informed and stay up to date with developments.
"A hole in the ceiling inside Station Plaza in St Marys burst open directly above a recent new bakery business," said one Weekender reader.
"There's a tree down at the Cambridge Park shops and a huge gum tree also down on College St, missed the guy in his car by inches, got his rear tail guard," said another.
Power was out across the region, including along High Street and Henry Street where traffic lights were not working.
Electricity was back up and running for most locals at around 7pm tonight.
The Penrith State Emergency Service responded to many calls for help, mainly involving fallen trees. Around 50 incidents were reported in the Penrith area and others are expected to be reported throughout the night.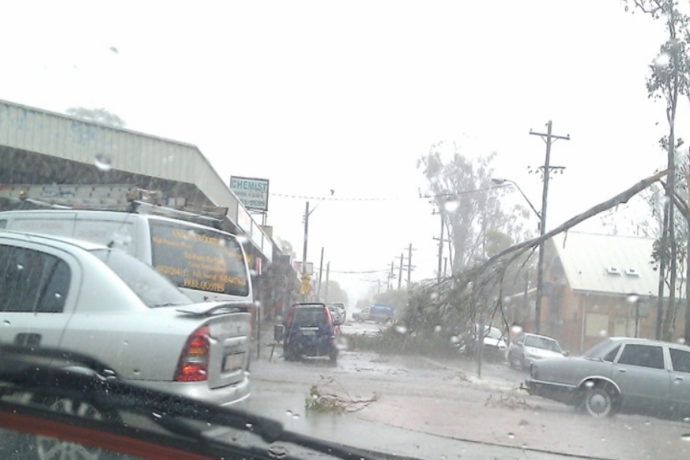 The initial storm came virtually without warning, meaning many locals were out at shopping centres or even on walks when it hit.
"My mum and I got caught in the middle of it half way home," said local resident Kate Winch.
"No time for photos, but thank goodness for the kindness of strangers. A lady and her family picked us up when you couldn't see a metre in front of you. So grateful right now for amazing people."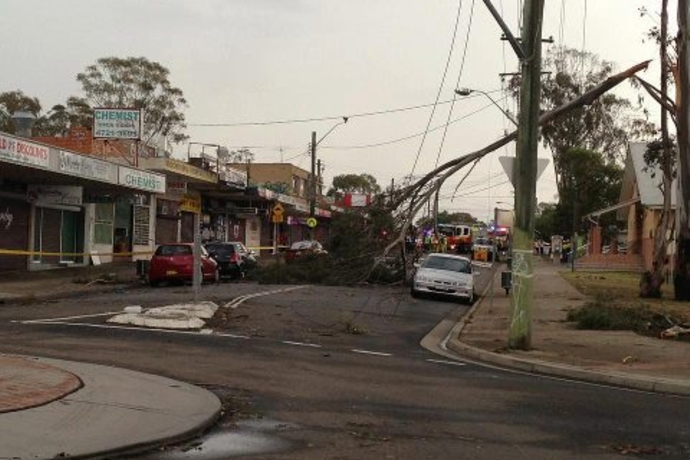 For many who were at work when the storm hit, the realisation of the damage wasn't realised until they got home.
"A tree came down on a car in a guy's front yard on Somerset St Kingswood," one resident said on the Weekender Facebook page.
"He's not home so I'm sure he's in for a shock when he arrives. It's a bit squashed now."
No injuries have been reported.
An additional thunderstorm warning was ultimately cancelled, but there is expected to be further rain and perhaps storms tomorrow.
SES: 132 500.