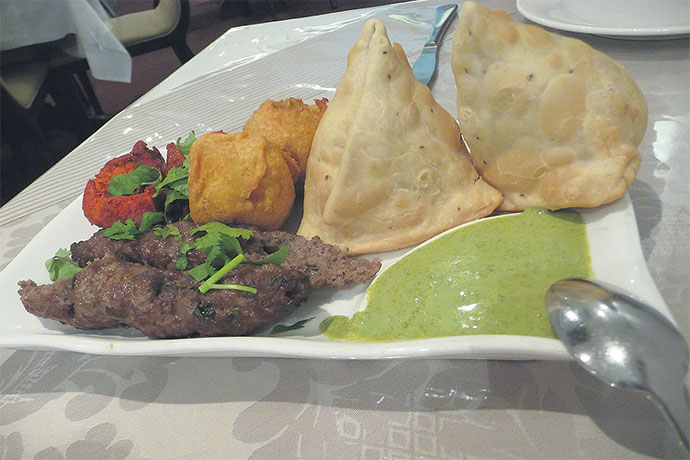 It is 7pm on a Wednesday night and High Street is almost deserted.

The people left in the streets stroll past the quaint shop fronts, not bothering to look inside.
However, little do they know that through the doors of one of these shop fronts that blend into the background is an Indian paradise, known only by a select few, tantalising the taste buds of anyone who steps through their door.
Known by regulars for its authentic and delicious Indian cuisine, Taj of the Valley is the perfect place for any dining situation from a quiet meal for two to a large family gathering.
As you breathe in the aroma of real Indian spices, choosing just a few dishes from the menu is exceptionally difficult as you find yourself wanting to sample a little bit of everything.
The menu offers a range of entrées that sound good enough to make your mouth water so, for a taste of everything, the mixed platter is the obvious choice.
As the dishes are placed on the table, it is hard to imagine that the freshly made-to-order entrées taste as good as they smell but one bite into the fresh Samosas, succulent Seekh Kebab, tender Chicken Tikka and delicious Vegetable Pakoras proves that they do.
For mains, the much-loved Butter Chicken is one of the best that you will ever try and the presentation is enough to make you go back for more.
Many of the dishes, like the East Indian Curry, cooked in 26 roasted spices, can be cooked with the meat of your choice however be sure to ask the helpful wait staff for their opinion on which to choose.
There are options for the seafood lovers and there is an extensive vegetarian and vegan menu offering the freshest vegetable and lentil curries that money can buy.
Accompany your meal with a traditional drink such as the Mango Lassie and a selection of the many side dishes available.
If you are lucky enough to book a table on a quiet night at Taj of the Valley, you can witness the cooking of Naan Bread, a delicious complement to any meal, in the unique tandoori oven; the perfect end to a wonderful night.
Taj of the Valley is open for dinner from Monday to Saturday 5.30pm to 9.30pm.
For more information or to book, call 4721 833 or visit www.tajofthevalley.com.au.