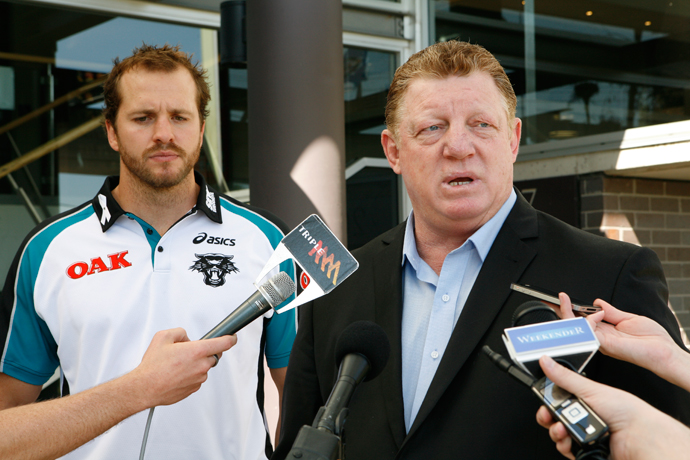 Penrith Panthers stars Clint Newton, Tim Grant, Sam McKendry and Lachlan Coote joined a new team over the weekend – the boys in the blue.

The Panthers players hit the beat with St Marys police for an operation targeting alcohol-related crime, anti-social behavior and public order incidents involving young people.
'Operation Enough' is a high-visibility policing strategy developed by police attached to St Marys Local Area Command to target young people involved in alcohol-fuelled anti-social and criminal behaviour.
In its third year, Operation Enough ran between 4pm and 4am last Friday and Saturday (November 2 and 3) using combined police resources attached to the command and players from Panthers.
Acting superintendent Jason Green said this year's operation, which patrolled known hot spots for drugs and alcohol in the area, was a big success thanks to the advice and assistance the travelling Panthers players offered.
"This year was particularly successful because we had the Penrith Panthers footballers along with us, which I think, had a great impact on the youth because they were easily recognisable within the community," he said.
"We were able to utilise those players to assist us when talking with the youth and hopefully help convince them to make smarter choices along the line.
"All of those footballers come from similar backgrounds; some of them even had knowledge of some of young people we spoke to over the weekend. There was good interaction between the players and the young people and hopefully that will assist us in impacting that sort of crime and anti-social behaviour in the future."
Executive General Manager of Penrith Panthers, Phil Gould, welcomed the opportunity for his players to be involved in Operation Enough.
"We take our responsibility in the community very seriously…when told of the operation our players were highly motivated to assist the police in delivering messages to kids about making good choices and not being forced into bad situations through peer group pressure," he said.
One of those players' assisting police during the operation was Panthers second-rower Clint Newton.
"I thought it was a fantastic opportunity for me as an individual and the Panthers group to be involved in," Newton said.
Newton said seeing the police hard at work opened his eyes to the shocking world of youth-related crime and anti-social behaviour.
"We got a first hand view of what the police have to deal with on a day-to-day basis, seeing it first hand and not reading about it in the paper hits you a lot more," he said.
"We get to see how many youths are out on the street unsupervised. The most disheartening thing was having to see the police do their job and try and be a parent too.
"One of the messages to come out of it was that parents have to be responsible for their children. It was extremely sad to see some of the kids there. All you wanted to do was give them a hug and take them home for a nice family meal. You can see that's what they're lacking."