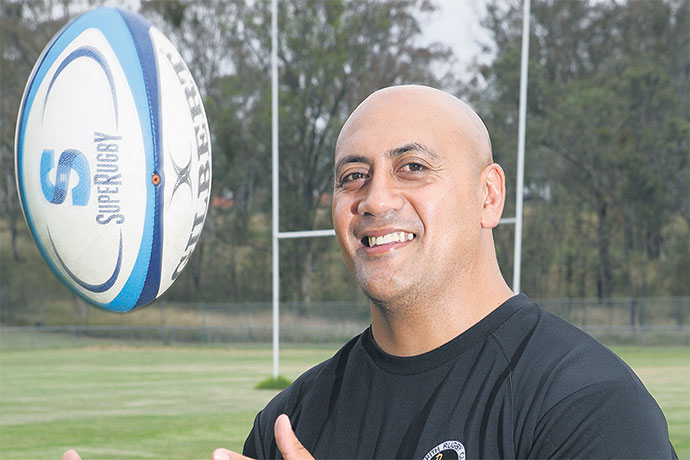 If you thought Ivan Cleary's job was tough, spare a thought for Sateki "Teki" Tu'ipulotu, who's just signed on as coach of the Penrith Emus rugby union side for the 2013 Shute Shield season.

The Emus have always been regarded as the "cellar dwellers" in the local Sydney competition after failing to make any impression in the league year after year, but that's all about to change if the former Tongan international has his way.
Tu'ipulotu, a former Emus player and three-time Tongan World Cup representative, is coming to Penrith, not only to challenge himself, but to change the identity, culture and stigma the Emus have had for so many years.
"It's a big job, a big challenge but I love a challenge," Tu'ipulotu said.
"What excites me most about this new role is trying to expose the local hidden talent out west. I don't think that talent has been tapped into properly and I want to expose that (talent).
"We're not Randwick, we're not Sydney Uni, we're not Eastwood, and we're not going to play like them. We have to find our own identity."
Tu'ipulotu's no stranger to coaching having guided the Tongan Rugby Sevens side as well as assisting their national team.
He was also the skills coach and technical adviser at the Parramatta club but always dreamed of making his way up the coaching ranks.
"I needed a new challenge and I wanted to climb up that ladder and become a first grade coach," Tu'ipulotu said.
"I suppose a lot of people may not think it's ideal because Penrith have been at the bottom for so many years but I'm very optimistic and I like change."
Tu'ipulotu plans to bring a new style of coaching to the club next season, but not only that, change the losing culture the club has embodied for so long.
"I'm not a very orthodox kind of coach," he said.
"I like taking risks, I like expansive rugby and I'm not one of those text book coaches. I do know a lot about technical stuff but I'm also about man management, where I can fine-tune someone's skill.
"I think Penrith have struggled over the years because of the culture. I know out west if the culture is happy, not only with the players but family, coaches, everyone involved in rugby, then the team can produce the goods. Rugby's not all about training on a Tuesday or a Thursday and playing on a Saturday, it's more off the field as well and that's what I've got to fine-tune and try and get that family-style culture back."
But until the 2013 Shute Shield season kicks off for the Emus on April 6, Tu'ipulotu has plenty of work to do to get his new side ready.
"We'll be concentrating mainly on skill work, fitness and becoming mentally tougher," Tu'ipulotu said.
"There's a few new rule changes set for next season which will speed up the game and make it more entertaining."