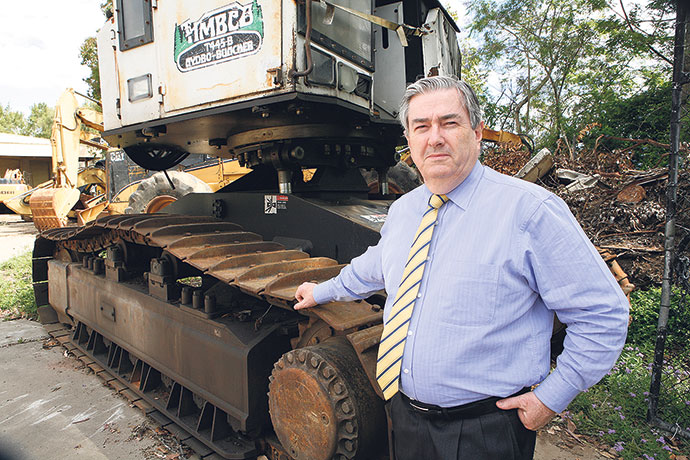 In 2008 it was heralded "right for Penrith" and "world class" but the developers of the 7.8 hectare site at 164 Station Street have gone back to the drawing board and produced a new concept design that has Penrith City Council very concerned.

The former Panasonic site was earmarked by Council to be a high density housing site and a master plan developed nearly four years ago included a 16 storey hotel with room for some 930 dwellings.
Since that time however, Council has been in contact with the owners of the site, Parkview, who have told Council the former plan is no longer viable and have instead submitted a new plan to build a Masters home improvement centre, 380 space car park and 570 dwellings.
Penrith City Council's Development Services Manager, Paul Lemm, told Councillors last week that because of the global financial crisis and changed lending practices, the site owners no longer felt the previous development was viable and have gone against Council's advice in submitting a substantially altered plan to the Department of Planning for approval.
"They ultimately came up with a scheme that would reduce residential space and bolster the commercial side of the development," he said.
Controversially, the 2008 plan was approved under the former Part 3A legislation meaning that the Planning Minister had the final say.
Though the legislation has since been repealed, the changes have again been filed under Part 3A provisions, taking away Council's ability to control what happens at the site.
"I don't see how they can actually do this," Cr John Thain said. "I think it's outrageous… this changes the whole proposal of what was planned."
Cr Greg Davies said that he was very concerned that if Council did not help the developers reach an alternative and more agreeable solution, that the proposal may be taken to the Land and Environment Court where Council would have no control over the outcome.
Council has made a submission to the Department of Planning strongly opposing the new plan.
Cr Ross Fowler said the development application must be rejected.
"It is audacious that city centre housing, which will be much desired in the future, should be pushed aside for a hardware store and more shops – stretching the CBD ever further," he said.
"Council strongly urges the Minister to refuse this development application. In doing so, the development will be directed to vacant land in the city which is currently zoned and ready to receive it."
Parkview were contacted for comment, but did not respond prior to deadline.