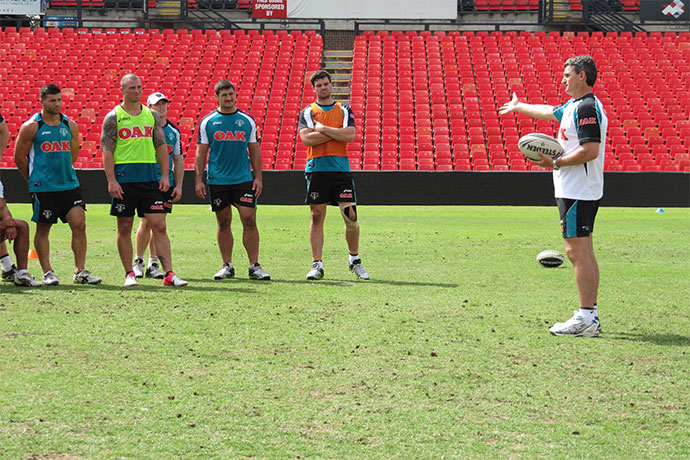 Penrith Panthers coach Ivan Cleary says he feels sorry for supporters who have to continue to read negative press about their club.

Speaking with the Western Weekender, Cleary said most of the negative stories printed about Penrith this year are false.
"I'm kind of use to it now (media scrutiny)," he said.
"I actually feel sorry for the fans because a lot of it is completely off and out of context. All I can say to true Panthers fans out there is that this group is working really well, the harmony's great and most of the stuff I've read this year, in a negative context, is completely out of context."
The Panthers have just wrapped up week three of their intense pre-season training. Cleary said all players were feeling good including the club's several new recruits.
"Everyone's got new goals and confidence is high," he said.
"The new boys are fitting in really well, it's a good group at the moment and it looks like they enjoy each other's company."
For the 2013 season, the Panthers have had one of their biggest recruitment drives in the club's history signing more than 10 new players including Sika Manu, Dean Whare, James Segeyaro and Lewis Brown.
Cleary admitted he's much happier with the 2013 roster than the one he inherited for 2012.
"I'm definitely happier with the side for next year, last year was absolutely inherited," he said.
"Next year will be another interesting year because we've got a lot of guys coming off contract. But I think everyone's more aware of each other and what we can bring.
"The best way to explain it I think is the rookies, the bottom guys in the squad, are a lot further ahead this year than they were last year. The group itself is moving along better and everyone's at a closer level to each other."
With so many new faces there will be a number of key positions up for grabs next year. Cleary said he has an idea of where he wants certain players positioned but preferred to keep it a secret.
"I've got an idea where I want the boys but I don't necessarily think it should be in the public domain just yet. There's a bit to work out, there's some options there," he said.
One new recruit who certainly has his eyes on the vacated fullback spot is former Manly back, Dean Whare.
"I really enjoyed playing fullback last year filling in for Brett Stewart because I had my hands on the ball more," Whare said.
"I think at this moment fullback is my best position. If it doesn't go well there during this off-season I can obviously slip into centre or wing. I played a lot of positions at Manly this year and given the opportunity I'd like to stay at fullback."