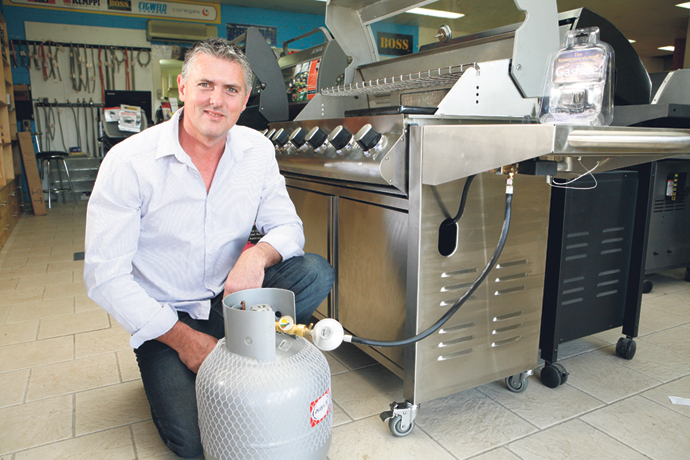 One of the quintessential things for most local families to do over summer is to have a good old-fashioned Aussie barbeque. But there are more dangers to barbequing then just burning your steak.

WorkCover NSW and Fire & Rescue NSW (FRNSW) have issued a warning to the community to be careful when firing up the barbeque and filling LPG (Liquefied petroleum gas) cylinders over the warmer months.
The warning follows a series of LPG and barbeque fires caused by the wear and tear of gas hoses and burners.
Owner of Penrith Gas Shop in Batt Street, Graham Parkinson, said it was important local families took the right precautions before switching on the barbeque for the first time in months.
"One of the most important things people can do is make sure their gas bottles is within the 10-year expiry test date, after 10 years of use a gas bottle has to be replaced or re-tested and stamped," he said.
"Another one is before you turn your gas on check the gas hoses to make sure they're intact. A good thing to do is spray your hose with soapy water and if any bubbles appear then that means you have a leak."
There are a number of products on the market to assist in the prevention of any possible gas-related mishaps.
"There's a device called a Gas-Fuse which is an emergency shut off system," Mr Parkinson said.
"If there is an issue with an old hose that suddenly splits, this device will actually stop the gas from coming through and potentially creating a dangerous situation.
"One general rule we have is if the barbeque is over five years old we normally say get the hose replaced, that keeps it in a safe condition."
FRNSW Commissioner Greg Mullins said since June 1, firefighters had responded to 64 barbeque fires and 67 leaking or damaged LPG cylinders and hoses, the majority of which were barbeque cylinders.
"When a cylinder leaks, especially on balconies, the gas pools until something ignites it like a cigarette or an electrical spark," he said.
"By following some simple precautions you can protect yourself and keep other people, property and bushland safe when firing up the barbeque."
If your barbeque or LPG cylinder does catch fire, call 000 immediately.