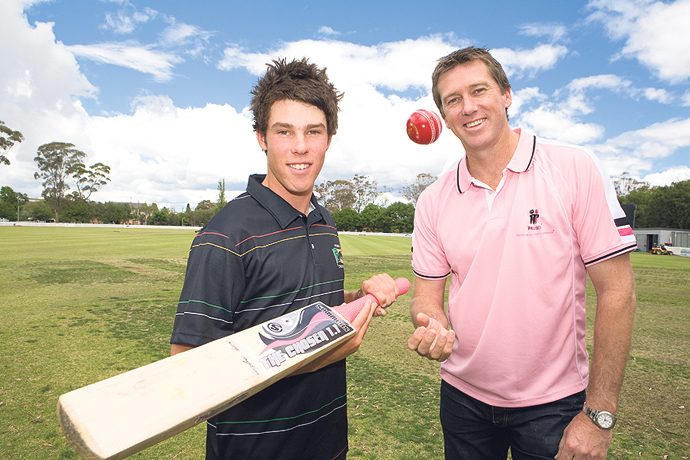 It is set to be the greatest run chase of the year – Penrith first grade batsman, Brent Williams, has set himself a target of 800 runs this season and it is all in the name of charity.

18-year-old Williams, who made his first grade debut in the last match of last season, has laid down the challenge to Penrith businesses; match his run score with donations of $1 for each run and all the proceeds will be donated to the McGrath Foundation, supporting the fight against breast cancer.
"I was at work one day and mum came home and called me to say that one of our family friends had been diagnosed with breast cancer. I was thinking on it and then it clicked that I should do a runs for donations drive," explained Williams.
On his own accord, Williams approached his club, Penrith Cricket Club and found great support.
"We are committed to supporting Brent's endeavours in any way possible… for a young man to show such community spirit is amazing and we wish him the best," said Penrith Cricket Club President, Greg Gavin.
The club will be donating $1 for every run he scores, and Williams is hopeful that local businesses will join in too, especially since the fundraiser has the endorsement of cricket legend, Glenn McGrath, himself.
The Western Weekender will be running an update of the run tally throughout the season.
"The McGrath Foundation is something that I am very proud of and is very close to my heart. My late wife, Jane and I established it because it was her dream that breast cancer sufferers and their families would have access to specialised nurses," McGrath said.
When Jane McGrath passed away, the foundation had funded four nurses, now there are 77 across the country offering free care through various institutions to breast cancer sufferers.
"We set a target of 150 nurses so we are at the half way mark now… initiatives like Brent's will get us even closer," McGrath said.
"I am urging as many Penrith businesses as possible to donate to Brent's fundraiser. I once had a sponsor offer me $100 for every run I made and I am sure that Brent will still raise more!"
To donate to Brent Williams' a-dollar-a-run campaign, contact Penrith Cricket Club's Mathew Thompson at [email protected]