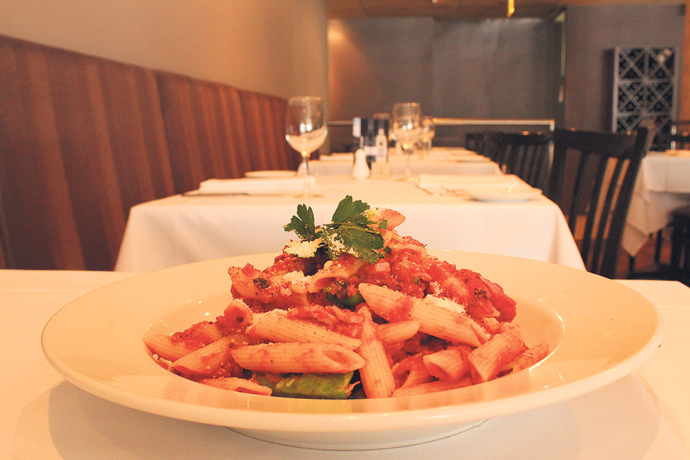 When you step inside Trevi Ristorante Bar & Lounge you wouldn't know you are in the heart of Penrith.

Instead, Trevi's elegantly modern décor with touches of old Italia makes you feel like you're in a high-end restaurant beside Rome's famous Spanish Steps.
The atmosphere is tranquil and sophisticated, and the soothing background music makes you feel relaxed and comfortable.
The soft bubble of conversation in the room was ideal though, leaving me feel calm rather than stressed trying to fight for 'air time' when chatting with my dining partner.
My dining partner and I visited the restaurant during the lunch session, which was far less busy and more intimate than Trevi's popular evening period. We both decided to skip the entrée menu and turn our attention to their extensive mains menu.
Most dishes had us both whetting our lips with excitement but we couldn't resist Trevi's delicious list of Pastas. I chose to have the Penne Sorrento – a popular dish that had been on the menu for seven years. It consisted of sautéed prawns, bacon, onion and snow peas in a garlic, chilli tomato sauce topped with fresh penne pasta.
My partner opted for the recent menu addition, the Aioli Linguine Con Gamberi. Her dish contained prawns sautéed in garlic and olive oil finished with semi-dried tomatoes, roasted capsicums and olives with fresh parsley and chilli. Both dishes came out in a timely manner, were full of colour and portions were of a decent size.
The prawns in both dishes were soft and easy to eat, and the light olive oil in the Aioli Linguine Con Gamberi brought out all the flavours and freshness of the pasta. Once we polished off our delicious pasta mains, it was time for dessert.
Mind you despite being very full, it wasn't a struggle to get excited for the next course. All the desserts looked palatable but I couldn't go past the Charlotte di Fragole which was layers of fresh strawberries, cream and vanilla pastry surrounded by sponge finger soaked in a vanilla and strawberry liqueur served with a strawberry coulee.
This dessert was truly unbelievable, it melted in my mouth. My partner, who's a glutton for chocolate, selected the Chocolate Pavlova Roulade, which in her words was "delectable".
Trevi Ristorante Bar & Lounge is located at 20-22 Woodriff Street, Penrith. They are open for lunch Tuesday to Friday from 12 – 3pm and dinner Monday to Sunday from 6pm to late. For bookings call 4732 5377.