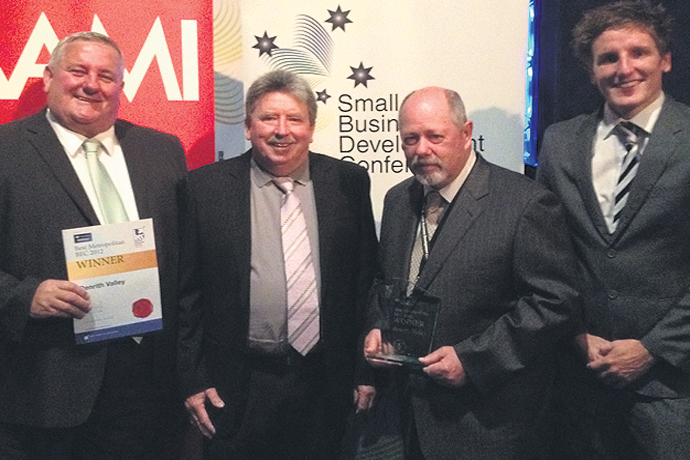 The local area has scored a major coup this week with the Penrith Valley Business Enterprise Centre (BEC) being named the best of its kind in the country.

The Penrith BEC won Best Metropolitan Business Enterprise Centre at the 2012 Small Business Development Conference in Tweed Heads.
The award, which is chosen as a result of clients nominating their local Business Enterprise Centre, followed by an application process, was presented to the Penrith BEC as a result of its outstanding service to its clients.
The Penrith BEC's Marketing and Business Manager, Michael Todd, who writes a weekly column in the Western Weekender's Business section, was also a finalist in the Best Business Advisor in Australia category, which further reinforces the great work of the organisation.
John Todd, Executive Officer of the Penrith BEC, said it is great to have won the award given the standard of BECs around Australia.
"We are so proud, the BEC network as a whole is outstanding and to be given this award is really a true reflection of how hard we have worked to service the needs of clients in Penrith, Blue Mountains and Hawkesbury," Mr Todd said.
"I'm also proud of my staff, they work so hard to maintain our high level of service and each and every one of them deserve this acknowledgement. I also want to thank our Board members, sponsors and clients because this award would not have been achieved without their constant support."
There are approximately 100 BECs around Australia, a strong network of small business assistance providers who, like Penrith BEC, deliver a mix of fully subsidised business advice, the New Enterprise Incentive Scheme and a variety of other programs and services making them the premier provider of small business advice.
"We use the network as a resource and are constantly refining our services to meet the needs and expectations of clients so they themselves can continue to raise the bar," Mr Todd said.
"The fact that fully subsidised business advice is available to any small business owner or intender is a remarkable opportunity for locals, which over 500 business owners have already accessed in 2012."
Jackie Zelinsky, CEO of BEC Australia, congratulated John Todd and his team at Penrith Valley BEC on winning the award for the Best Metropolitan Business Enterprise Centre.
"It's wonderful to see Penrith Valley BEC rewarded for its extraordinary contribution to small business over the last two decades. This is an award that has been a long time coming," she said.