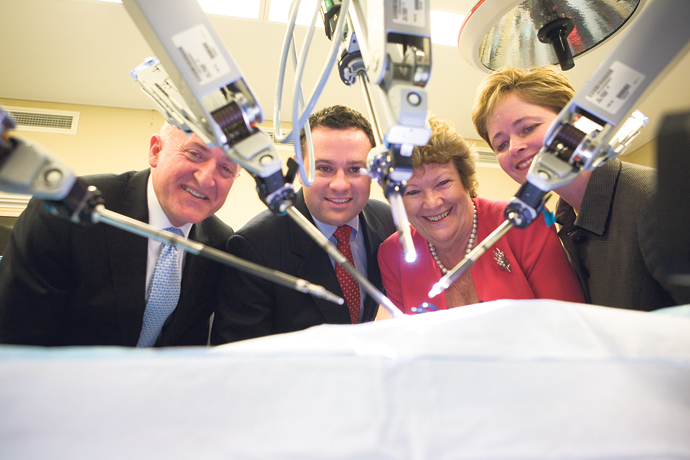 The superior number of arms on the da Vinci surgical robot compared to a human surgeon gives just a taste of the benefits this $4 million machine will bring to Nepean Hospital.

Professor Mohamed Khadra, Head of Urology, has recently completed training in the United Kingdom to use the surgical robot – the first in NSW of its type – and is excited about the prospects for both patients and fellow clinicians.
"Nepean Hospital is blessed to have a team of surgeons that are at the forefront of minimally invasive surgery. So we can do major operations – life-saving operations for cancer – with this robot, that are minimally invasive," he said.
"What this robot allows us to do, is so much more than is capable with the current technology. The people of western Sydney know that this type of technology exists, we have read about it in science fiction magazines – but now today, we have created science reality."
The robot, which is controlled via a surgeon located at a separate console, has more range of motion than a human hand and offers 3D, high-definition vision with 10x magnification, making surgery even easier.
And because the machine is remote controlled, there is the possibility of surgeons even performing an operation hundreds of kilometres away from where the robot and patient might be.
Health Minister, Jillian Skinner, Penrith MP Stuart Ayres and Mulgoa MP Tanya Davies, were given a demonstration of the robot on Wednesday and tried their hand at a training program.
"It requires dexterity," Ms Skinner laughed.
"Robotic-assisted surgery is the next phase in the evolution of healthcare and I am delighted that it will improve clinical care for those public patients requiring surgery."
Mr Ayres added that the acquisition of the surgical robot only further boosts Penrith's growing profile as a health precinct.