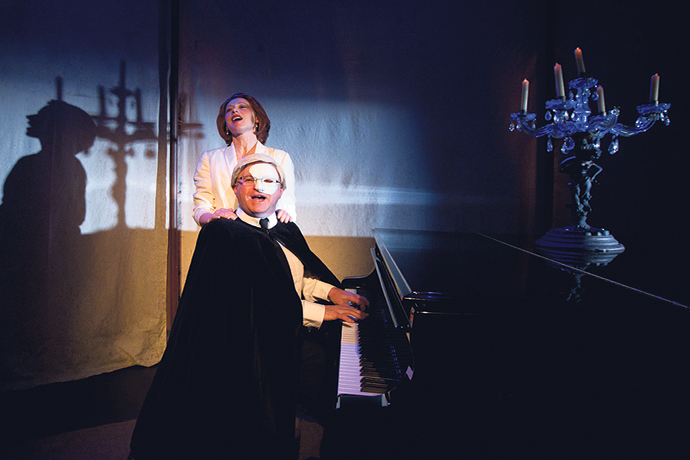 In a futuristic odyssey of sketch and song, Sydney Theatre Company's ever-popular Wharf Revue team goes behind the rings of satire for a rocket blast against the flat-earthbound foibles of a modern world going backwards.

Drew Forsythe, Phillip Scott and Amanda Bishop are joined by new recruit Josh Quong Tart, of 'Home and Away' fame, to serve up their special blend of side-splitting sketches and musical hilarity when latest episode of The Wharf Revue premieres at the Q Theatre on Thursday, October 4.
Some time in the distant future – certainly before the end of financial year 2013/14 – the Red Wharf space probe is launched from Woomera to the ark of humanity, a 'wunderkammer' of civilisation's finest moments played out for alien intelligent life-forms to show them how we lived here on planet earth.
The archive of human endeavor will include: The Same Sex Marriage of Figaro; the musings and wanderings of Foreign Minister Bob Carr; the demise of the bee; the fall of the Garden of Earthy Delights; refugees, guns, whistle and trumpet blowers; the trial of the heretic Flannery of Padua before the Collegium of Rome; Jamie "Sky" Packer's plans to rebuild the Golden Hungry Mile; the Peter Slipper Handicap and Alan "James" Joyce's rambling stream of near consciousness on a day in the life of a Qantas CEO.
Meanwhile, in another galaxy, on the Julie Bishop Death Stare (the 'e' is silent), Malcolm Skywalker refuses to join the Dark Side, even though all his colleagues have joined the forces of Darth Abbott to demonstrate the awesome power of negative thinking. If you're after a laugh and a half and love your political satire then you're going to just eat up this year's edition of The Wharf Revue.
The Wharf Revue 2012 plays to audiences at the Q Theatre from Thursday, October 4 to Saturday, October 6 at various times. Tickets are $48 for adults and $43 for concessions. To book or for more information call 4723 7600 or visit www.qtheatre.com.au.