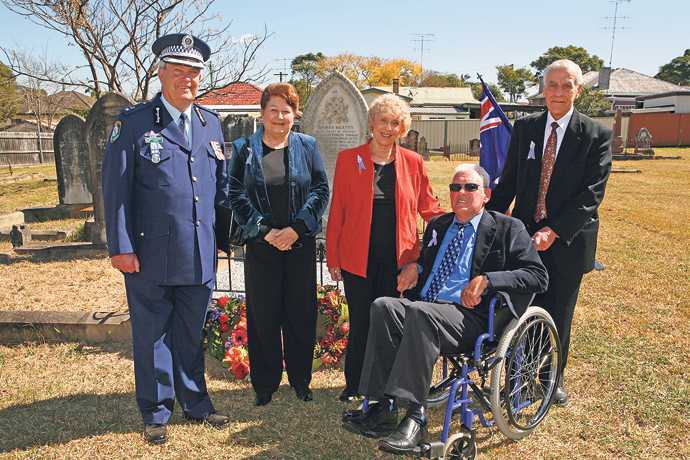 Until this week, the story behind Sergeant James Beatty was long buried in archived police gazettes and the long grass of St Stephen's Anglican Church Cemetery.

On Monday, Penrith's first fallen police officer was commemorated and his grave site restored to serve as a tragic yet heroic reminder of the difficult duties police officers face every day in their line of work.
"He was on duty on Friday, January 10, 1890. Little did he know that later that day, he would suffer fatal stab wounds at the hands of a 24-year-old Cingalese itinerant named James," explained Penrith Local Area Commander, Ben Feszczuk.
During the previous week James had made threats against a local publican for refusing to serve him liquor and pulled a knife on a local tanner.
When Sergeant Beatty saw James whilst on foot patrol, he asked him to move on several times.
"The offender stood up and without warning produced a sheath knife which was thrust at the Sergeant striking him in the chest. This occurred about 1.30pm. The Sergeant attempted to disarm the offender and after a short struggle, the Sergeant disengaged given the infliction of a serious wound to the chest," Mr Feszczuk said.
Bystanders threw rocks at James and one good Samaritan, a wood cutter by the name of John Zahnliter, was also stabbed in the melee. Constable William Moseley then arrived on scene and fired two shots, which fatally wounded James.
Sergeant Beatty was taken to his home where he was treated but died from his wound on the evening of January 11, 1890.
Over 1,500 people came to pay their respects at Sergeant Beatty's funeral – one of the largest funerals in that era.
On Monday, Police Commissioner Andrew Scipione and Mr Feszczuk laid wreaths at the Sergeant Beatty's grave in front of 100 fellow officers and community members. Sergeant Beatty's grave was restored for the occasion by Penrith City Council, who tidied the cemetery and provided new fencing and gravel.
"We have been honouring the bravery of officers both past and present… That risk and level of commitment to their duties is the same now as it was in 1890," Mr Scipione said.
"We thank Penrith City Council for funding the restoration of the site. Their help has played big part in making sure that in this city his contribution will never be forgotten."
The family of Sergeant Beatty, including great, great grand niece, Joan Cramer, also attended. "Policing really is about the people and to have the grave restored for the celebrations of the Police Force's 150th anniversary is just lovely," she said.