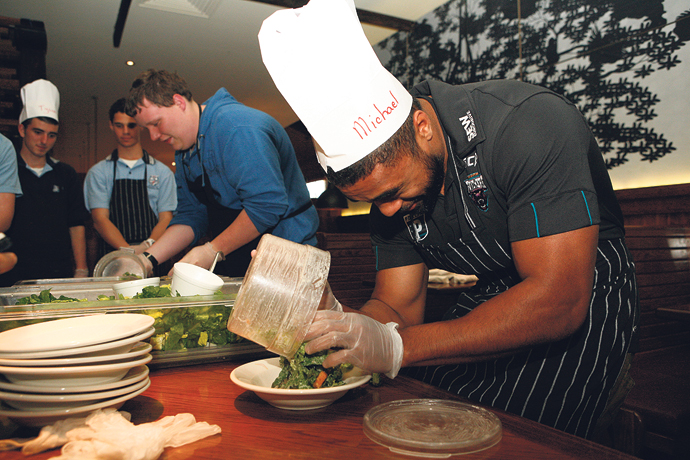 His fancy footwork on the rugby league field has earned him some of the highest honours in the game, but it was his skills in the kitchen that had everyone impressed by Michael Jennings this week.

The Panthers superstar took time out from the off-season to take part in a junior cooking competition run by Panthers on the Prowl and Outback Steakhouse on Tuesday.
Jennings was all smiles when he joined fellow players Cameron Ciraldo and Ryan Simpkins for the community initiative.
Ciraldo and Simpkins judged students from Chifley College Mount Druitt, whilst Jennings was called upon to judge Nepean High School students.
Jennings donned his chef hat and got involved in the cooking competition, though some of the skills on show probably proved his future lies on the rugby league field, and not in the kitchen.
Jennings, who has been to hell and back this year after being dumped to reserve grade only to finish the season in stunning form, brought a smile to the faces of those in attendance at the event on Tuesday, in awe that one of the club's favourite sons was working alongside them.
Panthers on the Prowl continues to assist students in the community, and is only growing in prominence.