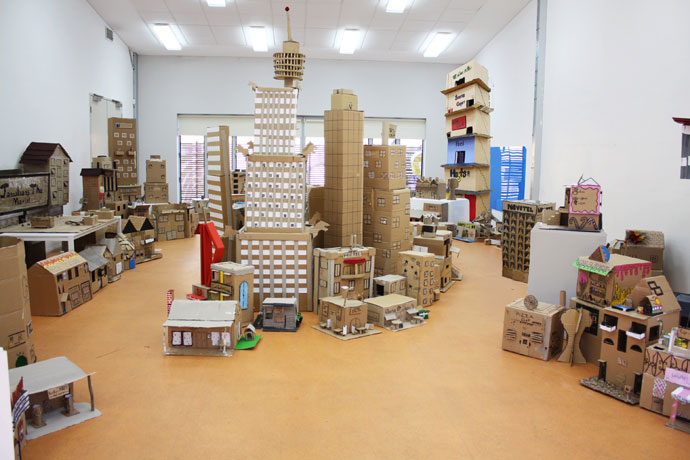 Young, aspiring local architects have been hard at work building their own city… of a different size.

140 year eight students from Erskine Park High School have worked together to construct a 'city' out of cardboard boxes that were collected from local businesses, as part of a project called 'Urban Upcycle'.
The students were asked to construct a building that would contribute to a 'city', which meant that each student had to consider what buildings and structures were needed in order for a city to run.
The students had the opportunity to exhibit their work at Penrith Regional Gallery and the Lewers Bequest.
"It's really exciting for our students to be able to exhibit their work in an art gallery, not many students could say they have accomplished this!" a Visual Arts teacher at Erskine Park High School, Jade Vardon, said.
"It's also really important to have strong links with the Penrith Regional Gallery. They have a fantastic education program, providing our students with some excellent opportunities," Ms Vardon Said.
The students constructed many different buildings varying from skyscrapers and small businesses to restaurants and entertainment facilities.
According to the students, having their personal work displayed in the gallery is an opportunity that they would not otherwise get and are excited to have had the opportunity.
"It was a huge honour for our class. I never imagined that my work would be in a gallery," Alierah Skinner, Year 8, said.
The exhibition took place on Saturday, September 8 and Sunday, September 9 at Penrith Regional Gallery and The Lewers Bequest.