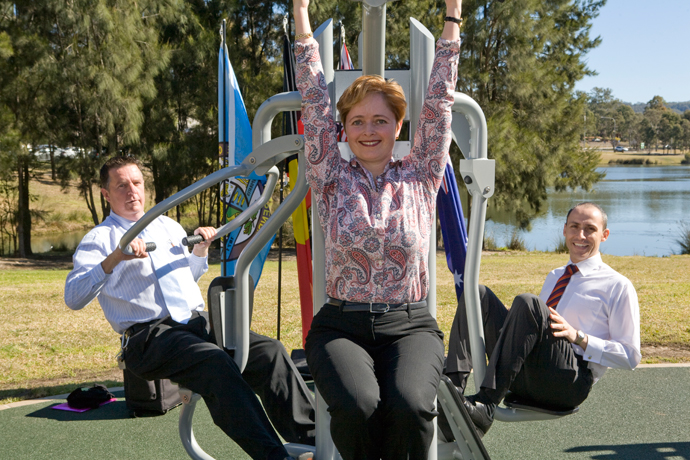 Penrith residents will now be able to get active and fit with new outdoor fitness zones and trails installed in Glenmore Park.

Cycle next to the loch, practice your chin-ups or take a stroll through the neighbourhood on designated trails, the new fitness centres are designed for all people to use and enjoy.
Officially opened on Monday by Penrith Mayor, Greg Davies, there are activity zones around Glenmore Loch and in Rotary Park, as well as an activity zone at the Glenmore Park Child and Family Precinct.
Cr Davies said outdoor recreation and fitness is gaining in popularity and Council has met this need with equipment for people to use.
"There [is] a range of equipment for adults and children of all levels of fitness and ability. It's ideal, whether you want to start a healthy and active lifestyle, maintain and improve your existing fitness or are seeking an alternative to exercising indoors," he said.
"The equipment enables workouts to help you improve flexibility, endurance and strength.
"There [are] stretch stations for body twists and aerobics, exercise bikes, a hand bike, senior and mini cross trainers, senior and junior recumbent bikes, elliptical trainer, chest press and pulldowns, pull ups, leg raises and body dip and push ups, leg press and sit ups."
Cr Davies tried out the exercise bikes and sit-up machine, whilst MP for Mulgoa, Tanya Davies, had a go at chin-ups.
Federal MP for Lindsay, David Bradbury, tested his arm strength with the pull-down machine.
The equipment at the different sites complements each other and provides a mix of training to help ensure users can meet their particular exercise needs.
All the equipment is labelled with easy-to-read 'how to use' signage as well as technological links to fitness websites and apps for further information.
Funding for the equipment has come from Glenmore Park s94 stage one developer levies.