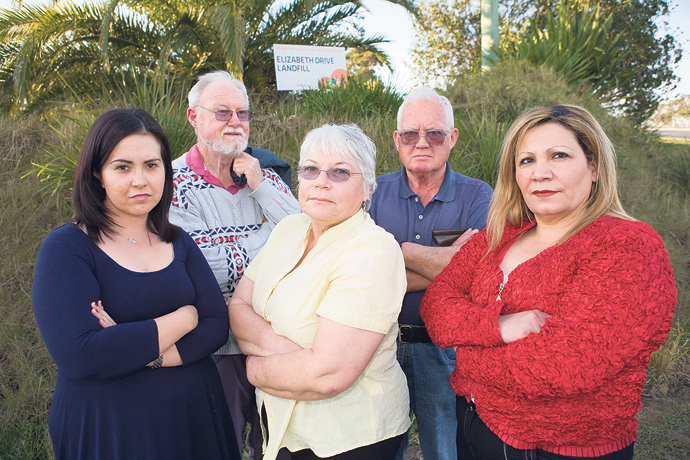 A war of words has erupted over the future of radioactive waste from the former Hunters Hill uranium smelter that has left Kemps Creek residents fearing their backyard is to become a radioactive wasteland.

The State Government is refusing to confirm exactly what, if any, waste from the North Shore site will be transported to the SITA waste management facility at Kemps Creek.
Minister for Finance and Services, Greg Pearce has denied time and again that "hazardous waste" will be sent to Kemps Creek, but will not rule out the possibility of sending "restricted solid waste" to the local waste facility.
When asked by the Weekender if restricted solid waste from Hunters Hill will be sent to Kemps Creek, the Minister opted to avoid the question, stating: "Any hazardous material found will be removed and separated from the rest of the soil and taken to a secure Government storage facility".
The difference between what is classified as 'hazardous' waste and 'restricted' waste comes down to the level of radioactivity, according to a spokesperson from the Australasian Radiation Protection Society.
"There are two criteria to determine if waste is to meet the definition of hazardous waste; one, a sufficient [total] quantity of the hazard must exist in the load of waste; and two, a sufficient concentration of the hazard within the waste [must] exceed a set threshold," he said.
"If the substance meets one of the criteria, but not both, it is referred to as restricted solid waste."
In parliament last week, Mr Peace said that the waste from Hunters Hill, "is expected to comply with the restricted solid waste classification", meaning that if the State Government sends waste to Kemps Creek, it will be radioactive.
But the radioactivity of the restricted solid waste would be unlikely to cause harm to a person with routine exposure to the material, according to the Australasian Radiation Protection Society.
Despite silence from the Minister on the final destination of the radioactive waste, Penrith City Councillor, Prue Car, is adamant that "all" waste will now be transported to Kemps Creek.
"After promising they wouldn't do it, the O'Farrell Government have told us we'll be getting the waste from this dangerous site after all. They have simply slapped us in the face," Cr Car said.
"Our community shouldn't be dumped with waste from a radioactive site that has been known to cause cancer clusters."
Cr Car's words have sparked a fierce fightback from Mulgoa MP Tanya Davies.
"Cr Car will say anything, even lie to promote herself – is it any surprise that this latest lie comes in the lead-up to a Council election? I am sure the electorate can see through this opportunism," she said.
An environmental assessment on the waste is scheduled later this year and, following a consultation period, remediation, including the removal of the radioactive waste, is expected to commence in 2013.