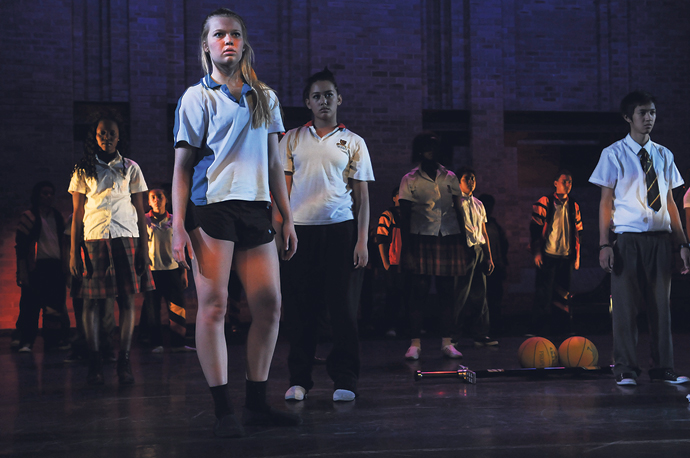 Later this month, leading Australian choreographer Shaun Parker, fresh from making two new works in the UK for London's Cultural Olympiad, will burst onto the stage at Parramatta Riverside Theatre with 33 teenage dancers from western Sydney Catholic schools.

'The Yard' is a performance about life in a western Sydney schoolyard with all the tension and humour these students experience.
The work's intention is to depict the daily reality of conflict and division, ultimately finding unity in the diversity of culture, gender and ethnicity and deals with issues faced by youth in the playground such as bullying and peer pressure.
Most of the performers hail from culturally diverse backgrounds including newly arrived immigrants from Nigeria and Sudan.
Self-taught from social media, a lot of these young artists had no access to formal training in music or dance prior to working with Shaun Parker.
St Clair teen, Brianna Law, has been training with Shaun in dance and theatre skills and is one of the program's true success stories.
Brianna has seen her focus change from commercial dance to contemporary dance and she hopes to audition for the highly regarded Western Australia Academy of Performing Arts and later pursue a career in dance.
"Through working on 'The Yard' I have learnt that arts is derived from human intent, and have developed my skill of choreography, engaging ideas [that are]specific to me and relatable," Brianna said.
Although Brianna already had incredible natural talent as a dancer, her dedication to a future in dance has been fostered by the opportunities provided by the Catholic Education Diocese of Parramatta's creative and performing arts initiative, 'Captivate'.
In collaboration with 'Captivate', Brianna and other talented youths have been working with Shaun Parker for over three years to develop 'The Yard' – a unique, gutsy and ground-breaking piece of professional theatre. Set to an electro acoustic score by Nick Wales, the 'Lord of the Flies' inspired performance fuses hard-hitting contemporary dance with break dance, locking and popping, tutting, krumping and jerking – forms of dance found on the streets.
The work has been nominated for a 2012 Australian Dance Award, and most recently, received an invitation to tour all 33 teenagers internationally.
'The Yard' plays at the Riverside Theatre, Parramatta, on Tuesday, August 28 at 7.30pm and Wednesday, August 29 at 7.30pm.
Tickets are $26 for adults and $22 for concessions. To book or for more information call 8839 3399 or visit www.riversideparramatta.com.au.