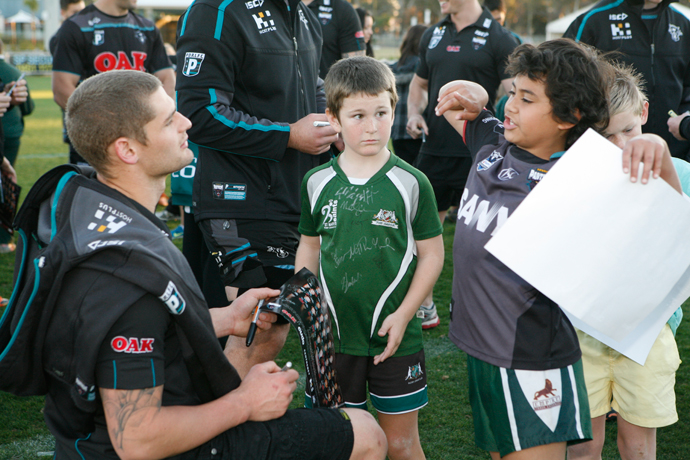 It may be the end of a long, draining year but the efforts of Penrith Panthers players in the community remain in full swing.

The Panthers joined future rugby league stars in a clinic at St Marys Junior Rugby League Club (JRLFC) on Monday.
St Marys JRLFC is known for turning out some of the cream of rugby league talent in the current Panthers squad, including Tim Grant, Michael Jennings and Geoff Daniela.
The club is located at the corner of Forrester and Boronia Roads, St Marys. The players helped run the clinic between 4pm and 5pm, before a meet-and-greet with the kids between 5pm and 6pm.
Youngsters wearing Penrith jerseys and holding merchandise and posters eagerly waited to have items signed by stars such as Grant, Jennings and skipper Kevin Kingston.
Last week, Panthers players Chris Armit and Junior Tia Kilifi joined primary school children in celebrating Book Week at the Learning With League Centre at Rugby League Central.
Chris and Junior judged a parade of kids dressed up as their favourite book character, read to the group, and talked about why reading is so important.
Also as part of Book Week, Shane Shackelton and Jesse Sene Lefao travelled to Holy Family Primary School in Mt Druitt to show the students the importance of reading.
This year's Book Week theme is 'Champions Read', and Jesse and Shack were there to help spread the message. The boys visited three classrooms, from kindergarten all the way up to Year Six.
They read to the kindy kids, chatted to the older kids about the importance of reading and answered many questions from curious students. Jesse Sene Lefao told the kids he loves reading to his three-year-old daughter, and Shackelton revealed his favourite book as a child was Grug.
Whilst it has been a rough year for the Panthers on the field, with the side currently sitting in second last position, the club has made a strong effort to increase its community interaction.