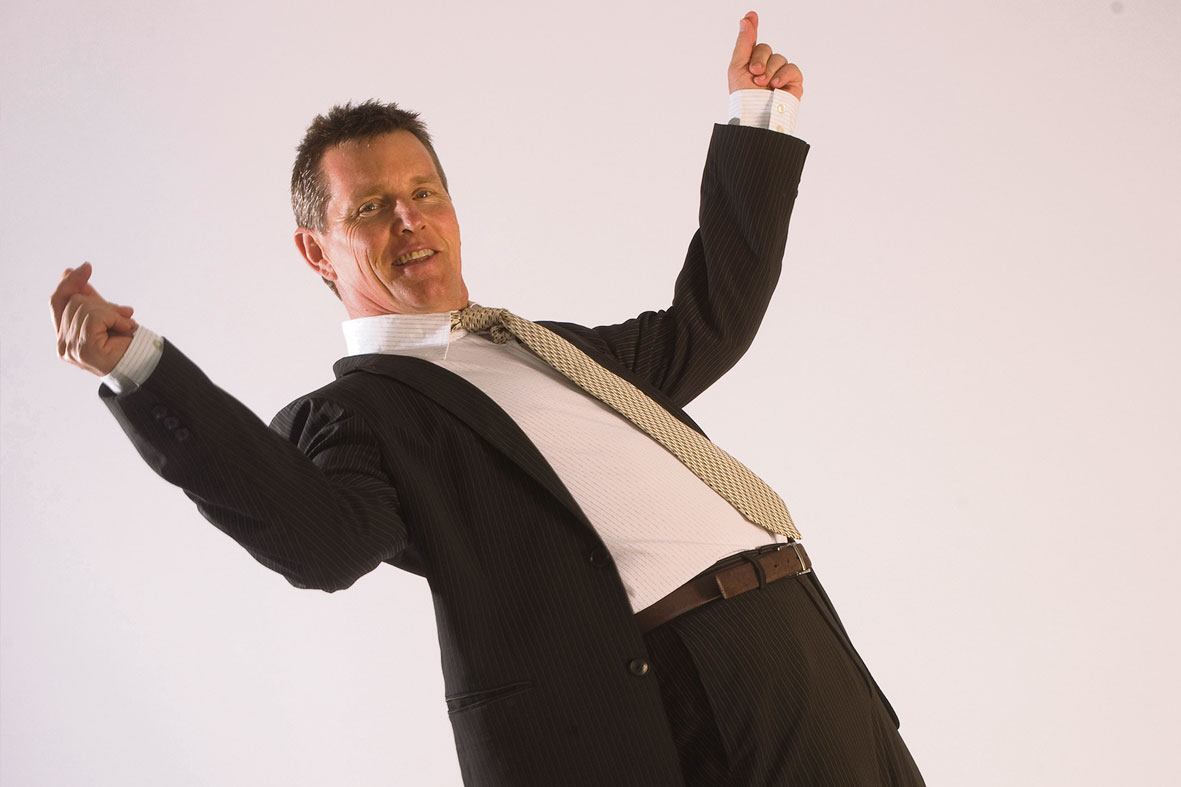 As a lover of all things swing, Australian singing sensation, Tom Burlinson, recalled a moment when he was a special guest of probably the greatest ever swing star to grace this earth – Frank Sinatra.
"I saw Frank Sinatra perform live a couple of times towards the end of his career over in Las Vegas," Tom said.
"I was doing a Sinatra mini-series at the time, which was produced by Sinatra's daughter Tina. While we were doing those recordings Tina said to me: 'What are you doing this weekend Tom?' I said: 'Well I'm going to Las Vegas to see your father perform'. She said: 'Okay when you get there you need to speak to Manny on the door and say you're a guest of Mr Sinatra and he will take care of you'.
"So here's me at Caesars Palace in Las Vegas walking up to the door person and saying: 'My name's Tom Burlinson and I'm a guest of Mr Sinatra'. I ended up getting a table up the front and was looked after the whole night. It was a great privilege to be able to say I was a guest of Frank Sinatra."
Tom admits he's been a fan of the legendary Ol' Blue Eyes ever since he was a toddler.
"My mother tells me when I was about three-years-old, she and my dad had a Sinatra album from the late 1950's called 'A Swingin' Affair' and it had the trademark photograph of Sinatra in his Fedora hat on the cover," he recalled.
"Apparently I used to point at this cover saying: 'I want the man in the hat, play the man in the hat mum! I loved Sinatra from a very young age, his energy got into my system somehow and I have been a really avid fan ever since."
Now many years later, Tom Burlinson has made an incredible living performing the songs of his entertainment idol.
Next Saturday, August 18, Tom returns to the stage fronting an all-new musical production called 'Now We're Swingin'' – a sensational swinging salute to the masters of the genre.
'Now We're Swingin'' is a montage of swing classics by Tony Bennett, Sammy Davis Jr, Nat King Cole, Dean Martin, Bobby Darin and of course, Frank Sinatra.
"My new show will be very similar to the 'Frank Sinatra Show' I toured a few years back with, [but] instead I have expanded my repertoire to feature the music of some of the great masters of vocal swing of the 1950's, 60's and beyond," Tom said.
"I'll also be accompanied by an eight-piece band of some of the best musicians in the country for this style of music.
"In between the songs I tell stories about the history of swing music and how swing music going in-and-out of fashion over the years affected the careers of those various men I am covering."
Tom mentioned he'll also be performing the songs made famous by supercool modern day swingers such as Harry Connick Jr, Michael Bublé and Robbie Williams.
"Many of those classic songs that were originally done by those legendary artists, have been revived more recently by Robbie Williams, Harry Connick Jr and in particular Michael Bublé," he said.
"If younger audiences aren't familiar with the original versions, they may be more familiar with versions by those modern day artists instead."
Tom credits the good-looking, modern day crooners for making certain timeless classics hits again.
"Swing music in general has come very much back into fashion," he said.
"Michael Bublé is one of those artists who has brought the genre back to life and become a superstar in doing so. On Bublé's earlier albums he did his own versions of heaps of Sinatra material like 'I've Got The World On A String', 'Come Fly With Me' and 'That's Life'."
Tom Burlinson's illustrious career stretches from acting and singing, to television host and theatrical producer.
He first shot to stardom in the 80's when he was cast in the title role in the box-office hit, 'The Man From Snowy River', which became one of the most successful Australian films ever made.
In the 90's, Tom revealed that as well as being a talented actor, he also had an amazing voice. His first professional singing engagement was as the voice of the young Sinatra in the Warner Brothers mini-series 'Sinatra'.
Join Tom Burlinson as he performs some of the greatest swing songs of all time at Rooty Hill RSL next Saturday, August 18 at 8pm. Tickets are $36.
To book or for more information call 9625 5500 or visit www.rootyhillrsl.com.au. FYI has 10 double passes to see Tom Burlinson live at Rooty Hill RSL to give away. For your chance to win one, SMS the code word 'TOM' to 19 19 18 and include your name and best contact telephone number. Entries close Wednesday, August 15. Authorised under NSW Permit Number LTPM/11/00917.