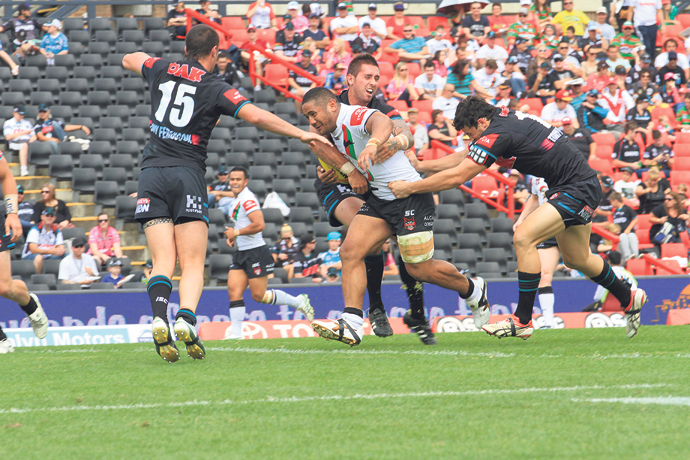 The Penrith Panthers Under 20s side has gone from first to fourth spot in just a matter of weeks, as the race for the Toyota Cup top eight heats up.

Just weeks ago the young Panthers were clear at the top of the Toyota Cup table – fast forward a month of football and they've won just one game out of their last five and are in real danger of missing a vital top four finish.
Penrith Panthers coach, Garth Brennan, said he wasn't too concerned about recent results over the past month.
"We've obviously dropped a couple of games the last few weeks but we've certainly been in all the contests," he said.
"Although we haven't gotten the results, we are certainly not far away from being where we need to be."
In their last two starts against the Melbourne Storm and Cronulla Sharks, the Panthers have gone down by an agonising one converted try in both games. Brennan said his side's poor late season form hasn't surprised him.
"It hasn't really surprised me, we've obviously had some injuries too, so we are trying to get some continuity together," he said.
"Obviously losing Harry Siejka for the season (shoulder surgery), who's your playmaker, does affect your team and it will take a bit of time for us to get some continuity together but I'm confident we'll bounce back."
Brennan admitted losing his star half last month was a massive blow to his side's cohesion but believed Siejka's future in the game was more important.
"I certainly made the call for Harry to have the shoulder surgery," Brennan said.
"It's all about his development, and the NYC competition is about developing young players into being NRL players.
"Harry needs a good pre-season with the NRL side, so the decision was to be made and I certainly support it 100 per cent."
This Sunday the Panthers will need to be back at their best when they face a strong Canberra Raiders side that aren't afraid to pile on the points.
Last week the second-placed Raiders scored an incredible 50 points in their high-scoring encounter with the Brisbane Broncos.
Canberra have also racked up more points than any other side in the NYC, totalling 670 points after 22 rounds of competition.
Brennan said defence was the important factor in defusing Canberra's many point-scoring machines.
"This weekend we see the best attacking side (Raiders) against the best defensive side (Panthers) – hopefully defence wins out this weekend because the Raiders can certainly attack," he said.
"Canberra have the ability to score plenty of points but they can also leak some as well, so hopefully we can capitalise on that."
Kickoff is at 11.45am Sunday.