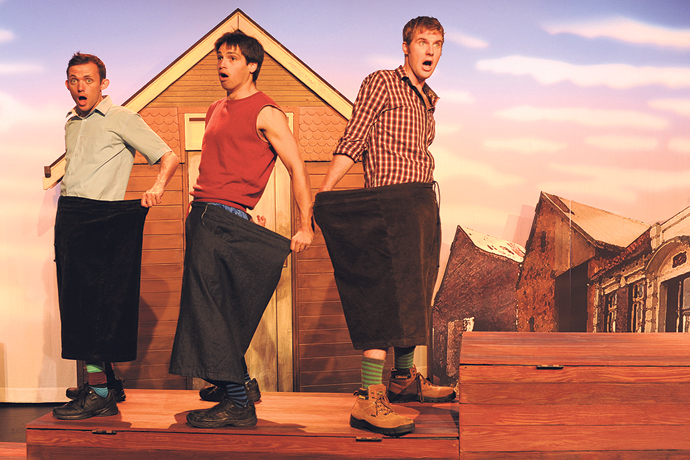 Monkey Baa's hilarious adaptation of the popular book by Tim Winton, 'The Bugalugs Bum Thief', is headed to the Q Theatre this July school holidays.

Bums, bottoms, behinds, call it what you like! The 55-minute show is guaranteed to be a fun and hilarious event for the entire family.
'The Bugalugs Bum Thief' tells the memorable story of the town of Bugalugs where inhabitants wake up one morning to find their buttocks missing, all 496 citizens of the town of Bugalugs are BUMLESS!
After waking up to discover that his bum is missing, Skeeta Anderson, with the help of his best mates Billy Marbles and Mick Misery, set out to discover where all the bums have gone and to find the culprit of the crime.
After much mayhem and madness Skeeta finally unravels the mystery and Bugalugs gets back to normal… well almost. Everyone has claimed the wrong bum!
This is where it gets very interesting! Join Skeeta and his friends in this ripper adventure that will have you singing along to catchy tunes and laughing your own bum off! Produced by Monkey Baa, one of Australia's best theatre companies for children, from the team who brought you 'Fox', 'Emily Eyefinger' and 'Milli, Jack and the Dancing Cat'.
'The Bugalugs Bum Thief' plays at the Q Theatre on Friday, July 13 and Saturday, July 14 at 10am and 12pm. Tickets are $18 or $64 for a family of two adults and two kids.
To book or for more information call 4723 7600 or visit www.qtheatre.com.au.