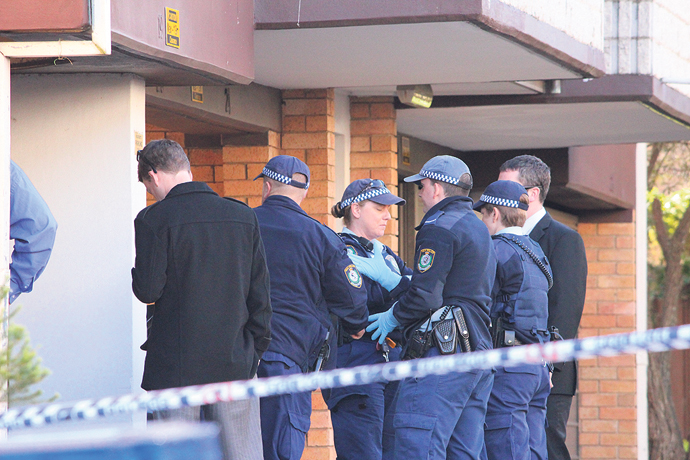 St Marys police are investigating the suspicious death of a male found deceased in a car, parked beneath a unit block in St Marys.

Police were called to the units on Saddington Street, St Marys, just before midday on Monday after reports that a male was slumped in a green commodore.
A crime scene was established and police canvassed the area with the help of forensics officers. Police searched the unit block, car park and investigated the contents of the car including a backpack.
St Marys police have confirmed that the man found in the car was not the owner of the vehicle nor was he known to the owner of the vehicle.
The victim is believed to be a 29-year-old male who resides locally but has not been formally identified.
Hayley Hookers and Tina Marlowe, residents of the unit block, told the Weekender they were shocked at the commotion on Monday afternoon.
"I was on the verandah when I saw an unmarked police car pull up and officers ran out of the car and down the driveway, I thought they must have been chasing someone," Ms Hookers said.
Ms Marlowe had just returned home and was parking her car in the garage when the commotion began.
"My eight-year-old son actually told me that police had pulled up on the street and then I heard movement out the back behind the unit. Then I saw the police putting up the tape and searching the yard and I knew it must have been something serious," she said.
The residents saw paramedics arrive but they left shortly after, leaving the body of the male for forensics teams to investigate. Police were at the scene conducting forensic testing late into the afternoon.
Ms Hookers and Ms Marlowe said that they did not know the owner of the green commodore.
"It is very scary that something like a murder might have happened in our area," Ms Marlowe said.
"Especially as it is a security building and there are lots of children and elderly living here."
The body of the 29-year-old man was taken to Glebe Morgue on Monday evening where it is hoped family members may be able to formally identify the body to detectives.
A post mortem examination is anticipated to take place in the near future to establish the cause of death. A spokesperson for St Marys police stated that the circumstances of how the 29-year-old man came to be in the green commodore are still being investigated.
According to St Marys police, the man was Caucasian, of medium build, wearing a blue flannelette style jacket, a black and yellow T-shirt, a pair of black football shorts and sheepskin style boots.
Anyone with information about the man or the circumstances of the incident is urged to contact St Marys Police or Crime Stoppers on 1800 333 000.