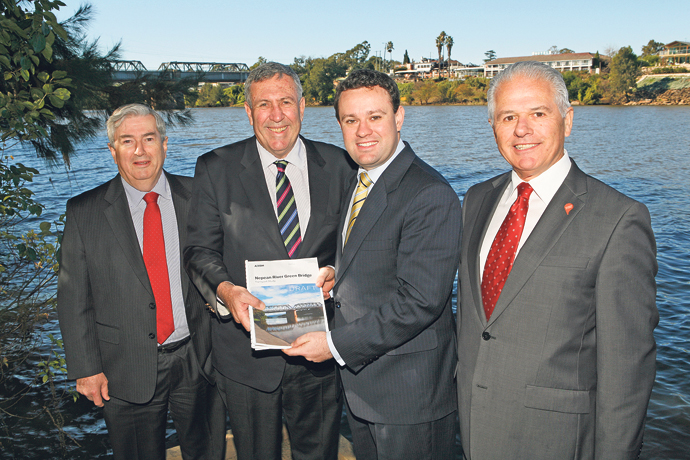 Along the Victoria Bridge, joggers wince as trucks speed past, cyclists push their bikes for fear of being clipped by passing traffic and mums pushing prams try to avoid crossing the bridge altogether.

But with $20 million committed by the State Government to building a new, shared cycle and pedestrian footbridge over the Nepean River, residents will soon have a safe and convenient crossing from Penrith to Emu Plains.
On Tuesday, Roads Minister Duncan Gay and MP for Penrith, Stuart Ayres, announced the preferred option for the location of the 'Nepean River Green Bridge' and invited the community to give feedback on the draft report conducted by AECOM.
Currently, the option that provides the most safety and amenity is a footbridge linking from Punt Road in Emu Plains to High Street via the Old Ferry Road access.
"I'm pleased to be here today to announce that residents, business and community organisations can now have their say on the future of the Nepean River Green Bridge," Mr Gay said.
"The draft AECOM report will be on display at Penrith City Council and Emu Plains Libraries over the next two weeks to inform the community of the outcome of the bridge location study and provide an opportunity for public comment."
"Developing the new bridge is an opportunity not only to reconnect communities on both banks of the river, but to make the crossing safer and more direct for the many pedestrians and cyclists, including school children, who need to travel between Emu Plains and Penrith," Mr Ayres added.
Local solicitor and Chair of the Victoria Bridge Taskforce, Joe Grassi, said that the options put forward in the draft plan will benefit Penrith residents.
"I originally became involved with the planning because I was running along the bridge one day and thought, 'Penrith deserves better than this'," he said.
"That was pre-2007 and as it started agitating me I approached the then MP for Penrith, but it wasn't until Stuart Ayres came along that we really got momentum – he has done a fantastic job."
The draft options will be on display at Penrith City Council and Penrith Library. Submissions close July 17.