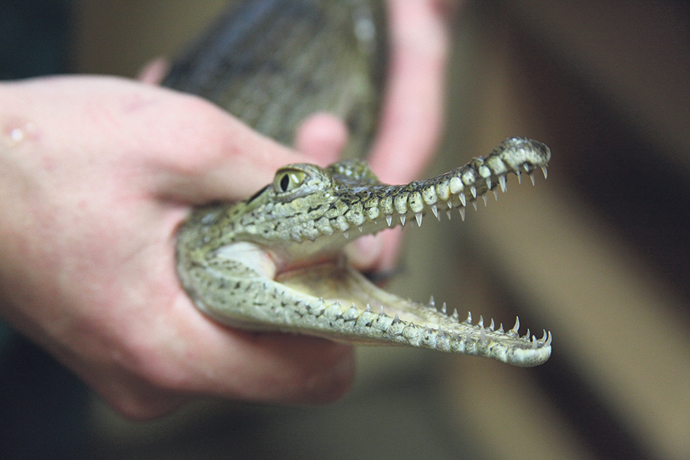 Ecstasy, ice, steroids, cocaine, stolen vehicles and even a crocodile. These were just some of the illegal items recovered by the NSW Police Drug Squad as they executed search warrants in Penrith this week.

At 7am on Tuesday, the Drug Squad and detectives attached to Strike Force Kintyre attended a residence on The Northern Road, Londonderry.
Officers discovered a clandestine drug laboratory, including two litres of a precursor chemical used in the manufacturing of drugs, 200 ecstasy pills and 300 grams of methylamphetamine (Ice).
A stolen motorcycle was also found at the residence.
But the real surprise to officers was the discovery of several illegally kept animals in a bedroom of the house, including a 50 centimetre long baby crocodile, two small turtles and a carpet python, all housed in fish tanks.
The animals all appeared to be in good health and were taken to a wildlife facility where they are being cared for by veterinary staff.
In relation to the seized animals, police will charge a 21-year-old man with buy, sell or possess protected fauna.
No arrest has yet been made in relation to the drugs and other items located at the property.
Later on Tuesday, at a residence in Guillemot Street, Cranebrook, Strike Force Kintyre seized 15 grams of cocaine, eight grams of ecstasy and about half a litre of steroids, as well as cash and a Subaru WRX sedan believed to be proceeds of crime. 

A 25-year-old man arrested at the address was taken Penrith Police Station, where he was charged with supply prohibited drug (cocaine) on an ongoing basis, knowingly deal in proceeds of crime, illegal vehicle rebirthing and possession of goods suspected of being unlawfully obtained. 


He was refused bail on Tuesday at Penrith Local Court to re-appear in court on Wednesday. During a third search at a residence in Ferndale Road, Badgerys Creek, police located 300 ecstasy tablets, and seized three allegedly stolen motorbikes and a caravan. Detectives anticipate making more arrests.
Strike Force Kintyre was formed in March 2012 to investigate the supply of prohibited drugs by a number of individuals in Sydney's west. It is comprised of police from the Drug Squad's Chemical Operations Team.