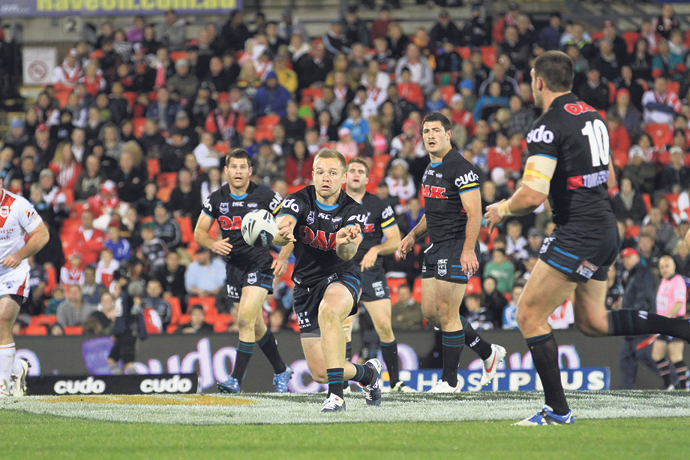 Yes, last week's game against the Titans was a shambles of epic proportions.

Yes, Coote had a shocker. Yes, the defence was rubbish. And yes, Jennings isn't as quick over 100m as everyone seemed to think.
But to dwell on that game or use it as a sign of where the club is at would be a mistake – after all, it comes on the back of a month that has seen the Panthers make vast improvements in terms of attitude.
Additionally, the squad took an absolute battering on paper prior to the match, with Josh Mansour, Sam McKendry and Luke Lewis all ruled out late. Mansour has been a star since his debut and his big metres and ability to win penalties were missed.
And Lewis' influence is a given. It's clear to me though that the player Penrith missed most – the player that has been by far the best all year – was Travis Burns.
He may not be flashy, and he may not be the most natural playmaker, but Burns' passion and determination have been key to most of the success we've seen thus far this year.
Alas, he's expected to be out for a couple of weeks yet, but luckily for the Panthers, this week's fixture comes with complimentary passion and a big serving of determination.
The Battle of the West is one of the true derbies of the modern game, and you only have to think back to round 19 last year to know what it means to both teams involved.
I guess what I'm saying is this: if the Panthers don't "turn up to play" this Saturday night at Centrebet Stadium in front of what should be, weather-permitting, one of the best crowds of the season – then we can start to worry.
Until then, I'm willing to have faith that this is a team on the improve. Burns might not be back this week, but Lewis and Mansour have both been named, and if they remain fit on Saturday, their presence will help immensely.
Coote will be looking for a big game too, to prove his doubters wrong. Clearly his demotion messed with his mindset in the lead-up to the Titans' clash, but let's not forget that he's been one of the Panthers' better performers all year.
I still think that, when Michael Gordon is fit, he's a better option at fullback – and indeed, Mansour would have been a joy to watch in the number one jersey as well – but when Coote's confidence is up, his kicking game is useful and his support play is second to none. Cleary has persisted with Luke Walsh at halfback, despite questionable form.
Walsh's kicking game needs to improve this week otherwise he'll be punished by an Eels side that can be dangerous, particularly with Jarryd Hayne in form.
One thing's for sure – while the Panthers and the Eels both have a lot of work to do to become competitive in the NRL, each side will be treating this clash like a grand final, and the victory will be ever so sweet.