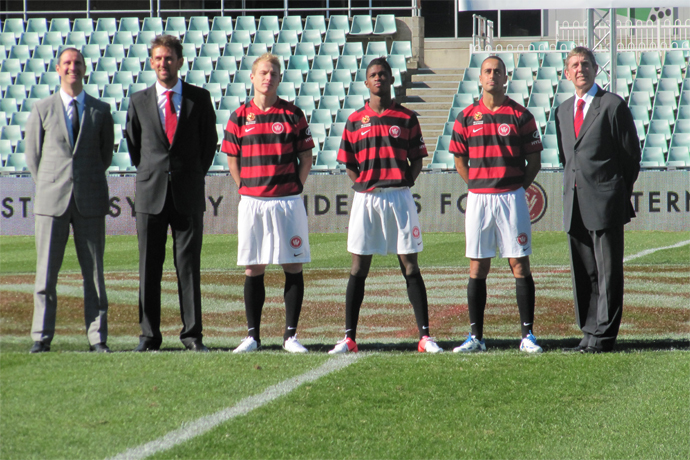 The Penrith region is part of the new Western Sydney A-League franchise's plan, according to their Executive Chairman, Lyall Gorman.

Speaking to the Weekender at the Western Sydney Wanderers FC launch at Parramatta Stadium on Monday, Mr Gorman said the club's logo, colours and players will be seen predominately throughout the Penrith region.
"We hope to get involved with the Penrith community as much as we can," Mr Gorman said.
"We plan to bring some games, training sessions and player appearances out to Penrith in the near future.
"Penrith's a big region for football through all grades and we hope to get plenty of support from the community."
Monday's launch was a historic occasion for the new football franchise with the official unveiling of the club's name, playing strip, logo, as well as an introduction to the club's Head Coach Tony Popovic and first three player signings – western Sydney products, Aaron Mooy, Tarek Elrich and Kwabena Appiah-Kubi.
The new A-League team will be known as the Western Sydney Wanders FC (Football Club).
The side will be kitted out in a red and black striped jersey, white shorts and black socks – all designed and supplied by inaugural apparel sponsor Nike.
The club's official logo incorporates the key elements of the western Sydney landscape – the mountains, valleys and winding river system that runs through the region.
The badge captures the unity and intertwined multicultural community that the Wanderers will represent. Mr Gorman said Monday's announcement was a landmark occasion for western Sydney, for the game of football and for Australian sport.
"The arrival of the Wanderers in the Hyundai A-League is a truly monumental event… football's heartland will finally have its own team in the national competition," he said.
"The sons and daughters of western Sydney's rich football heritage will get to represent their region on the national stage and beyond across Asia and the world.
"Even more important is that this club will be different – it will be powered by the proud people of the west."
More than 1000 fans attended seven fan forums across the region and over 15,000 people completed an online survey to help define the name, colours, culture and values of the football club.
"We consulted the Penrith community, as well as their mayor when we were deciding the direction of the club," Mr Gorman said.
Western Sydney Wanderers FC will play its first match in the Hyundai A-League on Saturday, October 6 against Central Coast Mariners.