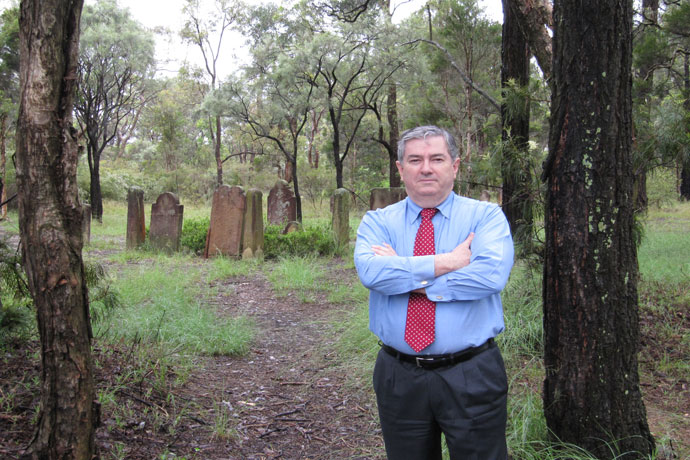 Veteran councillor Mark Davies has announced his stunning decision to quit Council and not contest this September's local government elections.

It's the latest twist in an extraordinary week that has seen confirmation that the Liberal Party will not endorse any candidates for the September 8 poll in Penrith.
Mr Davies, who has been on Council for eight years, said that he made his decision not to run in the past few days.
"I have decided not to run and will instead be focusing on my business, [daughter] Laura, and of course, supporting my wife Tanya in her role [as MP for Mulgoa]," he said.
Mr Davies said that his decision was unrelated to the NSW Branch of the Liberal Party's decision not to endorse any candidates for the election.
Penrith will be the only region without endorsed Liberal Party candidates when voters head to the ballot box because of an apparent rift between local factions.
Former Federal MP for Lindsay, Jackie Kelly, is rumoured to be the cause of the divide after seeking a return to politics through the Council elections, splitting the party with Mr and Mrs Davies in favour of her nomination, but MP for Penrith, Stuart Ayres, and Senator, Marise Payne against the move.
"I am very disappointed with the Liberal Party's decision not to endorse candidates for Penrith City Council, however the Liberal Party's rules do not allow me to comment on internal party affairs," Mrs Davies said.
Mr Ayres said in response to the allegations of factional fighting that: "The decision to run non endorsed candidates is made by Liberal Party head office, not Members of Parliament".
Robert Ardill has already confirmed he will not run for Council and councillor and Mulgoa MP, Tanya Davies, also will not because of State Government laws passed earlier this year forbidding simultaneous appointment to Local and State Government positions.
Liberal councillor Ben Goldfinch told the Weekender: "I have not yet made up my mind, but if I do run it will have to be as an Independent".
That means Ross Fowler is the only confirmed Liberal councillor seeking re-election, but will be forced to do so as an Independent.
"I always intended to run as a Liberal candidate but I will now run as an Independent. I have always been Penrith-centric and will continue to serve the community through Council regardless of the politics and hopefully after the next election," Mr Fowler said.
Mr Fowler said that there will still be a strong Liberal representation in the election, despite the current vacuum.
Liberal Party member, Marcus Cornish, has already thrown his hat into the ring but will be competing against Mr Fowler.
Penrith's Labor candidates have expressed concern over the "apparent in-fighting".
Labor's John Thain said that the decision reflects badly on Penrith, particularly in light of the city's recent successful campaign 'Penrith is Here'.
"We are trying to attract people, businesses and investment to the area but they need assurances from Council," he said.
"If they can't work together as a party how will they expect to work together in Council? And if the Liberal Party can't endorse the candidates, what does that say of those people?
"There's nothing wrong with having an ambition to be on Council but these matters should be sorted out during pre-selection. We settled our ticket six weeks ago and it is very much the same team providing continuity and experience."
Cr Thain pointed to the debacle where Cr Marko Malkoc left the Liberal Party to become Independent and support Cr Greg Davies' bid for Mayor last year as another example of long term Liberal tension.