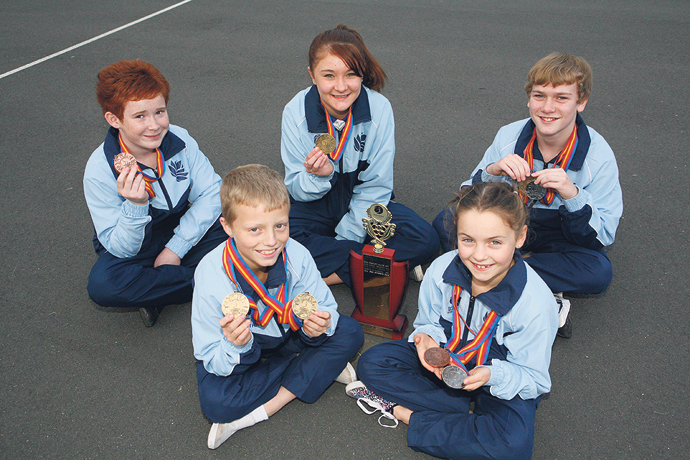 Five local kids are determined to put the highly dangerous and skilful sport of tumbling in the spotlight.

The sport of tumbling is an acrobatic discipline that combines skills of artistic gymnastics on the floor with those of trampolining and is practised on a 25-metre long spring track.
The five athletes – Krista Johnston, Ryan Balkin, Jack Hemmings, Ethan McGuinness and Sophie Wilson – are all aged between nine and 14 and are all tumbling champions in their own right.
Each student travels from their Penrith residence to their training facilities in Windsor up to five times a week perfecting their craft.
Recently each of the athletes either won or placed in their various divisions at the Australian Gymnastics Championships held at the Sydney Olympic Park Sports Centre.
For two of the kids the hard work and dedication finally paid off with Jack Hemmings, 13, and Ethan McGuinness, 11, qualifying for the Indo Pacific Trampoline Championships to be held at Sydney Olympic Park Sports Centre in October.
Emu Heights teen Jack, who's been tumbling since he was five, said he can't wait to hit the floor in October to compete with the pacific region's best.
"I'm pretty pumped and excited about competing with some of the best in the world," he said.
The other three kids will also have the opportunity to qualify for the Indo Pacific Championships when they travel to Brisbane in August to compete in the National Clubs event.