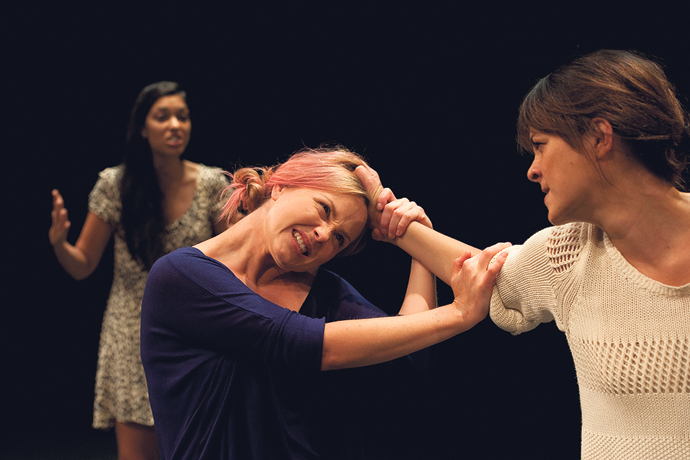 A fantastic new production commissioned by the Q Theatre Company and developed in Penrith, 'Truck Stop', is set to open your eyes to a world where teenagers live their own lives – no matter how dangerous and risqué it may be.

'Truck Stop' centres around main characters Sam and Kelly who live and go to school in western Sydney.
The girls spend their lives waiting for texts, waiting for boyfriends and waiting for 'those' girls in Year 10 to leave school so they can have somewhere decent to hang.
Bored one recess and with double maths looming, the girls escape through a hole in the fence to hang out at a truck stop on the highway.
At the truck stop, the girls read graffiti, talk about everything from sex and prostitutes to their favourite popstars, all whilst checking out the truckies who race by, until eventually one truck pulls up.
Kelly and Sam's hearts begin to race. The truck driver who stops is young and very good looking, so Sam issues Kelly a dare that could change her young life forever.
'Truck Stop' is a provocative, exciting and challenging new play that deals with an important and topical issue. It asks big questions about sexual awareness, gender identity, morality and growing up.
One of the stars of 'Truck Stop', Eryn Jean Norvill, who plays teen girl Sam in the production, describes her character as a misunderstood, angry individual, who acts as the ringleader of the group.
"Sam is 14 and can be fairly nasty and bitchy when she wants to be but deep down she loves her friends dearly," Eryn said.
"I think Sam has a very warped sense of herself and her sexuality. She can be pretty 'skanky' but I think she thinks she has a huge amount of power sexually, which she does but she doesn't really know how to manage it as yet. Sam is brave and funny and you want to like her but at the same time you enjoy to loathe her.
"Sam is definitely the alpha-female of the group and she's always at the helm of things. She can be a bit of a bully but also at the same time she's great fun, kind of like a contradiction of all teenage kids teetering on the edges."
The role of Sam, the schoolgirl prostitute, was a big one for Eryn, who said she felt quite "daunted" and "intimidated" at first due to the strong themes presented in the play. However it wasn't too long before she felt more comfortable and in touch with her character.
"The play is so great and playwright Lachlan Philpott has written a text and created a world that is so current, I haven't seen a script like this one ever," she said.
"I was intimidated and daunted by the task at first but I was really excited to take on the challenge and I think the play does have some dark and confronting issues but I also think they are really worthwhile (issues) in this day of age."
In 2011 'Truck Stop' playwright Lachlan Philpott presented another popular and award winning play to local audiences called 'Silent Disco', which also dealt with teenagers in high school.
One year before 'Silent Disco' hit the stage, Lachlan pitched the Q Theatre Company the idea of 'Truck Stop'.
The company loved what they heard and commissioned Lachlan to write a script.
The play, which also stars former 'Home and Away' and 'Underbelly' starlet Jessica Tovey, is inspired by an incident that occurred at a NSW public high school.
In that incident a group of Year 9 girls prostituted themselves to truck drivers during recess and lunch at a truck stop adjacent to the school (note: this incident did not occur in western Sydney).
Playwright Lachlan worked in collaboration with director Katrina Douglas and dramaturge Fransesca Smith to research, develop and write 'Truck Stop' over a 10-month period.
Lachlan combined his intimate knowledge of school communities with material gained from in-depth interviews with school students, truck drivers, social workers, sexual health workers and the wider Penrith and Blue Mountains community.
"Lachlan's a middle-aged man, a dashing one at that, but seems to find the voice of young people so well," Eryn said.
"I think also he's tackling these ideas and issues of young people and how they are influenced by sexualisation in the media from such a young age.
"I don't think a lot of people have the (guts) to tackle issues like that because it's really kind of scary. Even for my generation I don't really understand the influence and 'that' kind of world because it is changing so quickly, so I think this play is great because it's attracting so much interest because this sort of stuff is happening right now and it's something that needs to be unravelled and spoken about."
Eryn said while the themes will be quite confronting for theatre-goers, important and real situations are being discussed that could quite possibly help someone they know get through a similar situation.
"I think 'Truck Stop' will be really confronting for audiences and I think people may at first might not believe the story or want to believe that this actually happened somewhere," she said.
'Truck Stop' premieres at the Q Theatre on Tuesday, May 22 and will run till Saturday, June 2.
Tickets are $48 for adults and $43 for concessions.
To book or for more information call 4723 7600 or visit www.qtheatre.com.au.