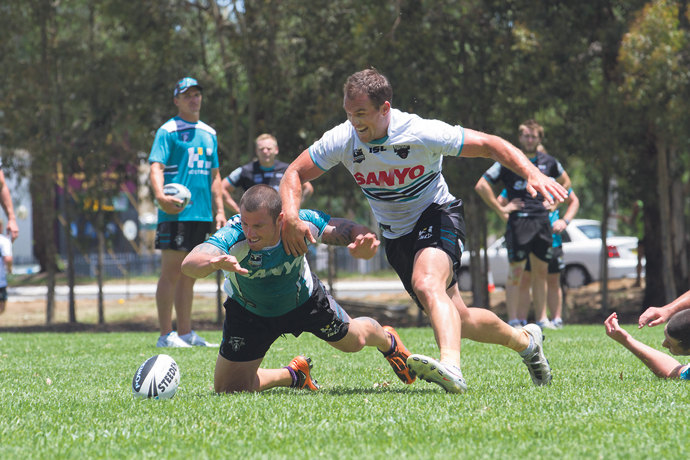 Ivan Cleary must have broken every mirror between New Zealand and the Blue Mountains on his way to his first day at the Panthers' office.

That's the best explanation we have for the run of bad luck the club has endured since.
Then again, the club's symbol is a black cat – maybe that's the problem?
The situation worsened during the week when Travis Burns – arguably the most consistent performer all season – was carried off the training paddock with a rolled ankle.
Cleared of major damage, he will do his darnedest to play the Dragons this week, but word is that it's looking unlikely.
Phil Gould says the Panthers can't even use the increasing injury toll as an opportunity to blood youngsters, as the club has exceeded its second-tier salary cap.
It's all part of wider salary cap-related dramas that Gould says may take years to make right.
Meanwhile, a somewhat more perplexing scenario has emerged surrounding Michael Jennings.
The Storm threw plenty at the star centre after he appeared to re-injure his shoulder early in the second half; 10 minutes later, Jennings left the field.
Cleary, however, has made it known that his marquee player was hooked for contribution – not rested for injury. He'll play NSW Cup this week.
Through it all, the Panthers need to regroup for this Monday's clash with the Dragons. It would pay to focus on positives, and there are a few.
For starters, the club's imposing prop rotation of Tim Grant, Sam McKendry and Dayne Weston are back together and looked dominant early against Melbourne.
Unfortunately, the Storm's freakish ability to concoct points from nothing meant their contributions were quickly forgotten.
The Dragons are finding points tougher to come by, and if the Penrith big men can lay a strong enough platform for a couple of early tries, they'll be in a position to go on with the job.
Another positive was the finishing abilities of Josh Mansour and Etu Uaisele. Mansour's try in particular was a spectacular display of athleticism.
Kevin Kingston's return from injury was also welcome – his options from dummy half were critical to Penrith's early season success, and his absence was apparent.
It's hard to tip Penrith given the on-field issues they're facing, but I do think an upset is on the cards here. The Dragons lack the surety of recent seasons.
Can the Panthers defy the odds and post their first home victory since July 2011, or will it be another long day at the office?
One thing's for sure: as the powers-that-be rebuild, your support is needed more than ever, so make your way to Centrebet Stadium on Monday night and cheer on the mighty Panthers.
Just don't walk underneath any ladders before you arrive.