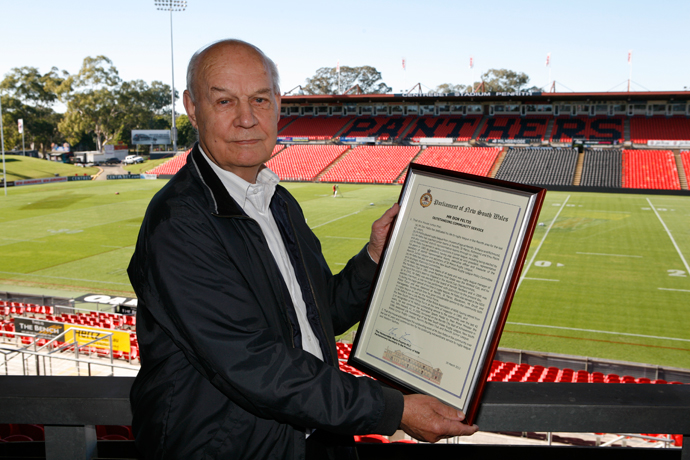 Don Feltis is hoping that his greatest career achievement hasn't happened yet.

After all, Mr Feltis was the man who convinced Phil Gould to return to Penrith and take on the biggest overhaul in the history of the Panthers.
He's hoping it turns out to be a masterstroke and Gould leads the charge towards the club's third rugby league title.
Success within the next few years or not, the contribution Mr Feltis – currently the Chairman of the Panthers' Board – has made to rugby league and the Penrith district cannot be questioned.
Last Friday, Mr Feltis was honoured for that contribution when he was presented with the NSW Parliament's Certificate of Commendation for Outstanding Community Service.
"My three children Suzanne, Neil and Mark and my wife Lynne were invited to Parliament House last Friday, where there was an official presentation of the certificate and it was a very satisfying occasion to share with my family who have been my strongest supporters over my long time in rugby league," Mr Feltis said.
"I have been involved in rugby league for the past 65 years, first as a player at St Marys, Richmond, Penrith Waratahs, Wellington and Bourke, then a coach for nine years and the last 35 years as an administrator serving as Chief Executive of both Penrith Junior League and the Panthers District Club."
Mr Feltis has always been the consummate professional, never hiding his commitment and dedication to the Panthers.
He is no ring-in: his passion for Penrith is real.
"I owe a significant part of any success I have had to rugby league, which has provided the platform for me to achieve what I have," he said.
"With so many highlights over my time in rugby league it is difficult to have a preference, but the Panthers' premiership wins in 1991 and 2003 rank highly and I want one more before I finish up and under the astute management of Phil Gould and Ivan Cleary, I am confident that will happen."
In part, the certificate presented to Mr Feltis last Friday reads: "This house acknowledges the outstanding work of Mr Don Feltis in the community over the last 42 years and commends him for his continuing extraordinary service to rugby league and western Sydney."