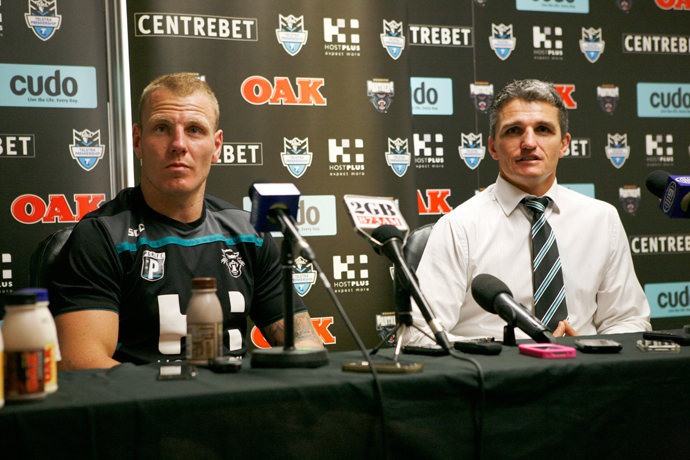 Panthers coach Ivan Cleary and dumped captain Luke Lewis held a dramatic 90 minute peace meeting on Tuesday in an attempt to diffuse a potentially major crisis at the club.

It all began last Saturday, before Penrith's breakthrough win over premiers Manly the following day, when coach Cleary informed Lewis that his services as captain were temporarily not needed, with hooker Kevin Kingston awarded the role.
Lewis said the meeting between him and his coach on Tuesday morning helped make things a lot clearer for him.
"Ivan and I had a really good chat today (Tuesday) to resolve a couple of things, which was good, but we didn't really talk too much about the captaincy situation," he said.
It's understood Kingston is taking on the skipper role to stabilise the side until Lewis' State of Origin commitments with the Blues are finished in round 19.
"Ivan's been talking about getting the captaincy back (after Origin) but I myself just want to have a good think about things," Lewis said.
"I want to make sure I get myself focused on what's best for myself, what's best for the team and also what's best for the club moving forward. That's where I'm at right now and I feel really clear (about things) and I'm happy the way I feel right now."
The current New South Wales lock-forward said Cleary's decision hit him very hard and took him by surprise.
"The decision did hit me hard but Ivan sat down and explained it all to me today and I can understand where he's coming from," he said.
"Ivan just wants some other guys to step up and take a leadership role, if I have the opportunity to go away from the club and into a State of Origin camp, and I can see where he is coming from.
"I don't want to make any quick decisions regarding having the captaincy back and I first want to make sure my football's improving and my football does the talking."