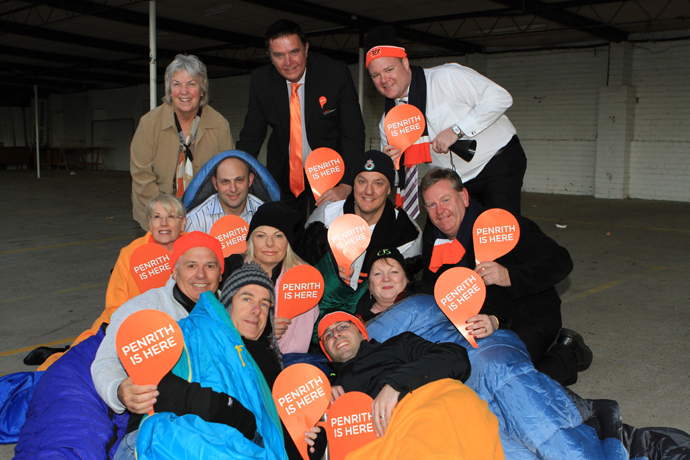 The businessmen and women of Penrith may wear suits during the day, but come June 1 they will be rugged up in beanies and scarves.

Business leaders are now registering to take part in the 2012 Business Sleepers, which will raise funds for the United Way Penrith Community Fund.
Cardboard boxes and sleeping bags will be the only shelter on Friday, June 1 when participants will sleep on the grounds of Penrith Paceway.
The Weekender Sales Manager, Simon Gould, is just one of many local business leaders and employees who will understand briefly what homeless people in our community experience on a daily basis.
"Homelessness is an important social and economic issue which, particularly in a busy society like ours, often goes un-noticed," Mr Gould said.
"It's vitally important that those of us who are in a position to help raise awareness of this issue, and funds to support it, make the time to do our part.
"I think everyone who is fortunate enough to enjoy a comfortable place in society has a moral obligation to give something back, however small that something might be and this is one way for me to do my bit."
Every business owner or employee who participates in the sleep out will contribute $100, which will be used to fund street swags and other necessities for Penrith's homeless population.
"Last year we had 44 people, but we'd love to double that this year," said Gai Hawthorn from the Penrith City Centre Association.
"The inaugural event last year was very successful and we actually had more at our event than the first Sydney CEO sleep out."
The funds collected will be given to the Penrith Community Kitchen's winter appeal and will go towards buying swags for the Vinnies Van, which will be distributed to local homeless people when it comes to Penrith.
"We're doing it for the right reasons for Penrith. Give where you live, that's our motto and so giving to local registered charities is a good place to start," Ms Hawthorn said.
To make a donation to the 2012 Business Sleepers event or to get involved, contact Gai Hawthorn on 4722 5556.