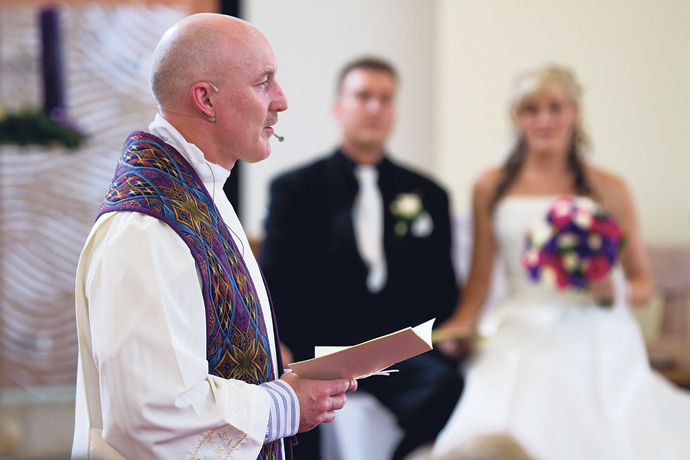 He has pronounced many local couples husband and wife, but Glenmore Park priest, Father Kevin Lee, has been removed from his position as administrator of Padre Pio Catholic Church after taking a wife of his own.

Fr Lee broke his vow to the Catholic Church a year ago when he secretly married the love of his life, Josephina, after meeting her in the Philippines.
This week he disclosed his union to raise awareness within the community that many priests were leading "double lives".
"I've fallen in love and I've got married and it's outside of most people's awareness," he told Seven News.
"I'm sure my family is going to be very deeply disappointed about these revelations.
"That's one of the reasons that motivated me to make public my admission, that I'm one of those people who's been a pretender… to draw the attention of the public that there are more like me, in fact most of them."
Fr Lee is currently writing a book on what he believes is the wider wrongdoing of fellow priests.
Bishop of Parramatta, Anthony Fisher, was forced to take swift action against Fr Lee and condemned his claims that most priests live a double life.
"I share with the priests of the Diocese of Parramatta and the people of Glenmore Park and beyond, their shock and disappointment at this revelation," he said.
"As Fr Kevin is aware, by his actions he can no longer operate as a priest and as a result I will immediately by appointing an administrator to Padre Pio Parish."
But the local priest has had overwhelming support after claiming that celibacy was outdated.
On the Weekender Facebook page on Wednesday, Jessie Sharp commented: "Of course he and all others should be allowed to marry! Everyone has the right to love and be loved!"
"Why shouldn't they be allowed to marry and experience the love of a partner and children. They would possibly relate to their congregation better," Catherine Rookyard added.
Fr Lee was unable to be reached for comment on Wednesday.