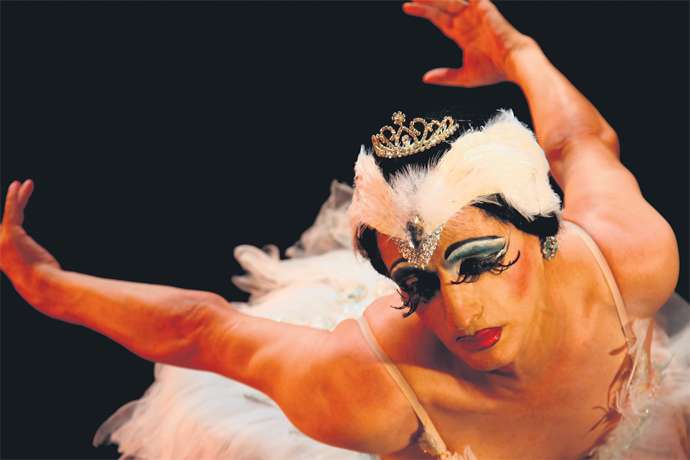 A bunch of 'Men In Pink Tights' are headed Penrith's way this month when Les Ballets Eloelle's hilarious and artistically brilliant production takes over the Joan Sutherland Performing Arts Centre on May 14.

Victor Trevino's new hit 'Men In Pink Tights' is a show designed for both males and females, the young and the old and is the ultimate send up of both classical and contemporary ballet.
Artistic Director and Lead Soloist, Victor Trevino, describes this hilarious new production as a 'spoof' of traditional dances but with one big difference.
"There will be no females on stage, although maybe one or two of them you might think might be, but there aren't any," Victor said.
"All the male and female roles are taken by guys, we dance on our toes just like women and basically we do all the original steps you would see in a traditional ballet show and we kind of just twist them up a little bit to make them funny and entertaining."
The combination of brilliant dancing technique, tongue-in-cheek blatant humour and the odd dancing mishap makes for a joyous experience for the whole audience.
"We are trying to get a laugh from the audience and give them a good time," Victor said.
"We want them to enjoy elements of traditional dance in a different way and for the audience to wet themselves looking at some unusual ballerinas, with a little bit of hair on them."
'Men In Pink Tights' boasts more than 50 classical ballets in its repertoire including 'Swan Lake Act II', 'Spartacus', 'Grande Tarantelle' and 'Romeo and Juliet', as well as featuring 20 of the best international male dancers from 13 different countries.
These handsome and talented ballerinas have performed with some of the world's leading ballet companies including the Houston Ballet, San Francisco Ballet, Royal Danish Ballet, New York City Ballet and the Metropolitan Opera Ballet, just to name a few.
And if you're thinking 'Men In Pink Tights' is just for the ladies, then you're wrong, because loads of men each night are making their way to theatres across the world to laugh at their fellow sex prancing around the stage in pink costumes.
"We've had men tell us 'the wife dragged me along and I thought this is going to be a night that I can take a nap in the theatre', but they said to me after that they had an incredible time and that show was a lot different than they expected," Victor said.
"All our characters are not what you would normally see in a traditional ballet – you'd see some thin ones, some big ones, some tall ones and some short ones – you're going to see all kinds of 'swans' out there on stage that you wouldn't normally see."
The producers of 'Men In Pink Tights', Les Ballets Eloelle, are one of the few all male comedy ballet companies in the world. Their mission is to create, present, preserve and extend comedic repertoire of classical and contemporary dancing, through performances of the highest quality, presented to the widest audience possible.
Victor, who also works as casting director for the show, said it can be quite difficult to find the right mix of male ballerinas.
"It's hard to find the right combination of people because when you put them all on stage together you want it to be interesting," he said.
"I think in this production I got very lucky because I have a group from all over the world in the show who are all well-trained, great dancers and who have a great sense of humour. I think I've really gotten lucky with this particular cast."
Dancers from South Africa, The Philippines, Chile and the United States are just some of the nations represented in the cast of 'Men In Pink Tights'. Then again what about an Australian member? Victor said whilst he's Down Under he could very well be on the hunt for his first Aussie male ballerina.
"I have many friends in Australia who were trying to find an Aussie dancer for me but a lot of directors I spoke with were afraid if I took the dancers, they wouldn't come back. They weren't very willing to share them with me," he laughed.
It's also important to reiterate to theatre-goers, especially those men who attend, that while these ballerinas in pink tights look fantastic in their tight tutus and heavy make-up, they aren't what they seem… they are all men, each and every one of them.
"We haven't had any serious mishaps as yet because there is space between the dancers and the audience, but we have had to actually clarify with a few confused people that there were no females on stage," Victor laughed.
"When you look at one of the thinner Filipino dancers we have all dressed up, his legs go right up to his ears just like a girl. It's hard for us to tell what we are looking at sometimes, so I'm sure it's impossible for the audience."
The New York-based Les Ballets Eloelle's 'Men In Pink Tights' is sure to delight audiences of all ages when they perform traditional dance classics with a twist.
The most talented and funniest male ballerinas on the planet will entertain you with their antics, and burly men will transform before your eyes into dainty, slightly hairy swans.