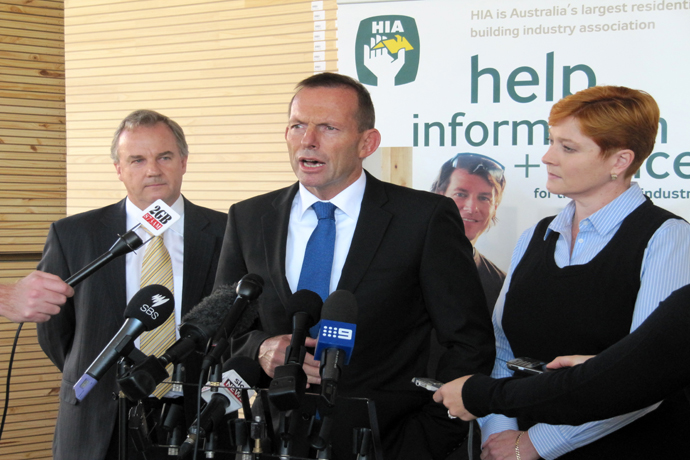 Opposition Leader, Tony Abbott will be the guest speaker at the next Business Matters Luncheon organised by the Penrith Valley Chamber of Commerce. Mr Abbott will be speaking on his views of the Australian economy and his plans to strengthen it.

"The only foundation for a successful country is a strong economy," Mr Abbott said earlier this year in an address to the National Press Club of Australia.
"The only way to take the pressure off family budgets, to increase job opportunities, and to have the better services and infrastructure that every Australian wants is to build a stronger economy. That's why my plan for a stronger economy is to scrap unnecessary taxes, cut government spending and reduce the red tape burden on business."
Mr Abbott is particularly critical of the Federal Government's carbon tax, which comes into effect on July 1 of this year and "programs that have become bywords for waste", such as the roll out of Super GP clinics and the set top box program.
Jill Woods, CEO of the Penrith Valley Chamber of Commerce, said that Mr Abbott's address to the Business Matters Luncheon was one of many high profile talks organised by the Chamber to show Penrith businesses the broad spectrum of ideas shaping the local and national economy.
"Opposition Leader, Tony Abbott, is taking the opportunity of right of reply to Federal Finance Minister Penny Wong's visit to our region late last year when supported by Federal Lindsay MP, David Bradbury," she said.
"The Chamber remains staunchly apolitical and will continue to work with all parties who deliver the necessary support and policies to ensure business investment, development and employment to our region."
Ms Woods said the Chamber provides equal time to major stakeholders and political decision-makers to address its members where issues are sufficiently important to the impact of business practices and growth.
The Business Matters Luncheon will be held on June 6 at Penrith Panthers. Tickets are $100 for members and $125 for non-members. To RSVP contact Tania at the Chamber on 4725 0301 or [email protected]