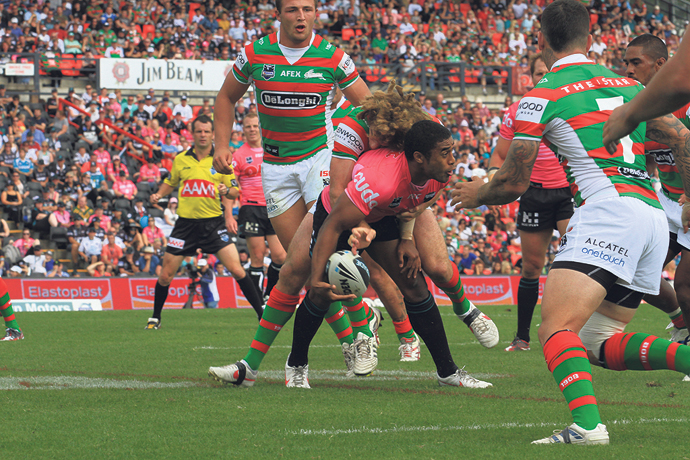 So far, 2012 is appearing strikingly similar to 2011 for the Panthers.

Two convincing and promising victories early in the season have been overshadowed by poor form at home and, this Monday gone, a performance that must rank up there with the worst in recent history.
Facing a depleted Manly side missing no less than four internationals, the Panthers managed to make their opposition look brilliant through wretched handling and a complete lack of enterprise in attack.
It's far too early in the season to be calling any match "do or die", but as the Panthers get ready for a Sunday afternoon clash at home with the Wests Tigers, you get the feeling this match will say a lot about the Panthers' chances this season.
For starters, the Tigers will be just as – if not more – desperate for a win. Favoured by many for the premiership before the season started, Tim Sheens' men have won just one of their first six and currently languish at the bottom of the NRL ladder.
Much of the off-field discussion has centred on rumours of rifts in the Tigers' dressing room – rumours captain Robbie Farah has emphatically denied. They'll feel like they have a point to prove.
In fact, for the most part, the Tigers haven't been bad; they've simply lost to better teams on the day.
And after Penrith's showing against Manly, the Tigers will be looking at this match as one they have to win.
So that's what the Panthers face this Sunday. The question is, was Monday night at Brookvale an anomaly, or can we expect more of the same from the Panthers throughout 2012?
A lot rests on the shoulders of Luke Walsh. Penrith had plenty of ball in opposition territory on Monday, but the attack was pedestrian and predictable. Hit-up, hit-up, hit-up, kick high on the last.
It's not working.
Occasionally, the ball would go left to Michael Jennings, but in order for him to be effective, he needs defenders to be worried about other options in the line.
I don't recall a single occasion when Walsh took the line on, and there weren't enough bodies in motion around him to give Manly a second thought.
To be fair, the Panthers haven't had trouble scoring points in other games, and with the way the Wests Tigers play football on a Sunday afternoon you just know there will be plenty on offer.
Can Penrith brush aside the last dismal performance and claim their first home win?
If not, you can be even more convinced that 2012 is just 2011 all over again.