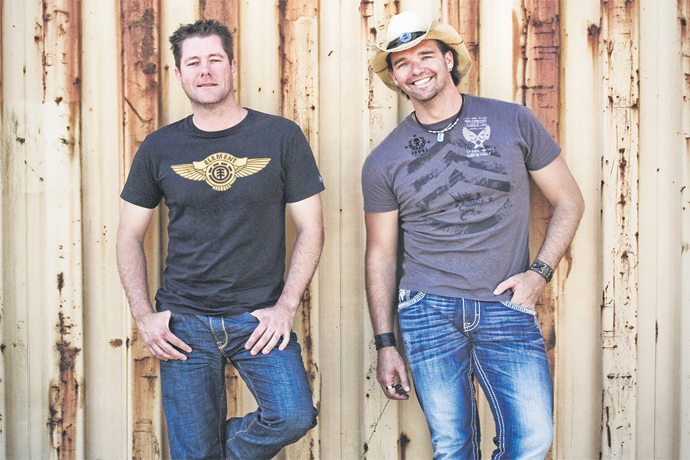 For a long time Australian country music fans have been waiting for a dynamic country male duo, similar to the likes of America's Brooks & Dunn and Big & Rich, that they can call their own.

Thankfully a couple of boys from rural NSW, Drew McAlister and Troy Kemp, joined forces to fill that void.
The six-foot giants known as McAlister Kemp write, record and perform music that touches on core values, real people, great fun and great music.
Last month McAlister Kemp released their second studio album titled 'Country Proud'. The album debuted at number one on the Australian country music charts, proving that after some 25 years battling away in the music biz, hard work does pay off.
"We were absolutely stoked our album hit number one, we were hoping for a good result when the album was released but never expected it to land at number one, especially ahead of huge artists like Tim McGraw and Faith Hill who were touring the country at the time," Troy Kemp said.
McAlister Kemp's first album 'All Kinds of Tough' was also a smash hit, producing three number one singles. The boys were highly commended for their efforts on 'All Kinds of Tough' taking home a 'Best New Talent' Golden Guitar Award, as well as winning 'Best New Oz Artist' at the Country Music Channel Awards.
Troy said he and their record company never expected their second album 'Country Proud' to do nearly as well as their first.
"The guys at ABC Records said if we can get Top 30 in the charts they would be stoked, but there was never any expectations of being number one," he said.
"We didn't know what would happen but you start to get a feel on how your fan base has grown and it's quite overwhelming and very appreciated.
"We've worked so hard over the last two to three years to really build our brand as an act and it's just proof that it's finally working."
Next Saturday, April 28, McAlister Kemp are due to unleash their talents to a big crowd at Rooty Hill RSL.
Troy said he couldn't wait to put on a fun and energetic show for the 'country mad' audience.
"A McAlister Kemp show is always full of energy and plenty of crowd participation," he said.
"We'll be doing a lot of great songs from our first album, a lot of great songs from our second album, all complete with a big light and sound production. We've got a six-piece band now, so it's kind of like Bon Jovi with fiddles and banjos thrown in.
"The rocking live show will be filled with plenty of energy because we really want people to feel they've got their money's worth when they're driving home."
Apart from the United States, Australia would have to be the next greatest producer of big time country music.
We've produced plenty of chart-topping solo stars like Lee Kernaghan, Adam Brand, Jasmine Rae and Kasey Chambers, as well as successful groups like The McClymonts, but we've never really had a male duo dominate the scene quite like McAlister Kemp have.
Troy said successful American country duos like Brooks & Dunn and Big & Rich inspired him to take on the idea of sharing the stage with someone just like him.
"I grew up in Kempsey, up the coast of NSW playing a lot of rock and pop music but it's probably only been in the last 10 years that I really got seriously into country music," he said.
"But I grew up loving all those bands like Brooks & Dunn, Big & Rich and Montgomery Gentry. We often get compared to those guys and that played a big part when we were putting this whole thing together.
"There was a big hole in the Australian market for an act like those guys and we saw the hole and dived into it and it worked!
"We often get called 'American copycats' in this industry and people are always trying to clone what's happening in America, but in saying that there are a couple of duos in Australia like the Noll Brothers and Davidson Brothers but they are pretty much family acts."
Before McAlister Kemp was born, Drew and Troy lived very parallel lives. They both started playing in pubs in cover shows when they were 13. They both grew up in small towns and have virtually mimicked each other's ways over the years without even knowing one another. Troy and Drew met one day during a Johnny Cash tribute show and it all kicked off from there… eventually.
"There was a guy called Michael Carr who played in the Johnny Cash show with us that suggested we get together," Troy said.
"At the time we thought it was a stupid idea to be honest, but he kept on ringing me and kept on ringing Drew saying you guys have to give this thing a go.
"When we finally caved in, our first gig was with Adam Brand up in Newcastle and it just snowballed. Obviously Michael saw something in us that we didn't see at first but we're very glad we decided to give it a go and haven't looked back."
Australia's favourite country music duo McAlister Kemp rock the Rooty Hill RSL stage live Saturday, April 28 at 8pm. Bookings: 9625 5500.