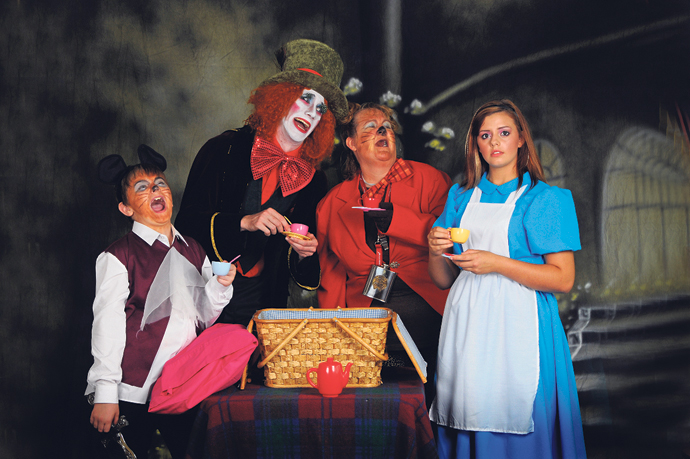 The story of Alice falling down a rabbit hole into a fantasy place is one of the world's most beloved children's tales of all time.

Written by English author Lewis Carroll, Alice in Wonderland has captured people's imaginations all over the world and now, for the first time in Australia, it is becoming a musical.
New local theatre company, Ruby Productions, has adapted the classic story into a musical theatre version, complete with song and dance.
Chelsea Taylor, 16, who plays Alice said she's excited to be involved in this new production.
"I was performing at this St Marys Christmas Festival last year and the people at Ruby Productions approached me after I finished singing and asked me if I wanted to audition for the role," she said.
"The audition process was nerve-racking because it was the first time I'd auditioned for a role outside of school. I used my nerves in a positive way, completed the audition and 'hey presto' got the role and I'm so excited."
Chelsea, who is now in Year 11, started acting at age 14 in a high school production of 'Oliver'.
At the same time she was also receiving singing lessons primarily in the pop and rock genre before moving into the musical theatre and opera side of things.
Chelsea hopes all the acting and musical theatre she is currently partaking in will one day earn her a starring role under the bright lights of Broadway.
"Acting and musical theatre is something I want to make a career out of, I absolutely love it," Chelsea said.
"Being able to be on stage and to be able to show the emotion and take it across to an audience and hopefully have them experience the same thing, to me that is the best, it's great – I love it!"
'Alice – The Musical' is centred on a girl named Alice (Chelsea Taylor) who follows the White Rabbit into the surreal world of Wonderland and meets a range of weird and intriguing characters as she tries to find her way home.
The well-known and loved characters will all be featured in the production, with the talented cast not only acting out the famous story but injecting the excitement and energy of music and dance to this unique production.
The 'Alice in Wonderland' story has been portrayed in so many ways over its 147 years of existence, including the popular 1951 Disney cartoon movie, followed by the 2010 live action box office smash starring Johnny Depp as the Mad Hatter.
'Alice in Wonderland' directed by Tim Burton and starring Johnny Depp, Anne Hathaway and Helena Bonham Carter raked in over US$1 billion at the international box office making it the ninth highest grossing film of all time.
Chelsea said she has been a fan ever since she was a little girl.
"I've always been into the Wonderland kind of idea because it's so different and it's so out there," Chelsea said.
"I also think many people love the story too because as children many of us can relate to Alice.
"Being in a world where it's very strict in a sense… but she gets that release where she goes to this crazy land that's full of wonder and excitement, stuff she's never experienced before and I think it allows children to be able to connect with something a little bit out of the ordinary."
'Alice – The Musical' will stay true to the original storyline with a few slight tweaks along the way.
"Obviously they can't make me shrink down into a tiny person like they do in the cartoon, so that's one difference," Chelsea joked.
Being a musical, more than half of the production is set to be song and dance presented in a modern style.
"The songs in the show will have a modern twist, which is good because it will enhance the experience for the adults, as well as the children."
'Alice – The Musical' is set to feature a very diverse cast in terms of acting ability and age.
The youngest person in the cast is aged just six right through to people in their 40s.
"The cast is great and honestly in most rehearsals we are just laughing the whole time and having fun, we are all definitely a bunch of characters," Chelsea said.
"It's great that we all get along so well and even with the varying ages of the cast there's none of that 'You're younger than me, I have the upper power'. We have a round table type of communication, so that's great."
With just one week left before Chelsea hits the stage, she said she's very much looking forward to having all her family and friends there to support her on opening night.
"My family thinks the whole acting thing is great for me because they can see how much I enjoy it, but they also think it's a little strange because I'm into motor mechanics, so they always say I'm an 'out there' child, which I think makes me who I am," she said.
Chelsea, whilst attending Year 11 at Jamison High School, is currently working as a mechanic for Toyota as part of a traineeship.
'Alice – The Musical' is an all ages event and begins its series of shows on Friday, April 13 at 6.30pm at the Penrith Anglican College Lighthouse Theatre in Orchard Hills.
Tickets are $20 for adults, $15 for juniors and families of four are $60.