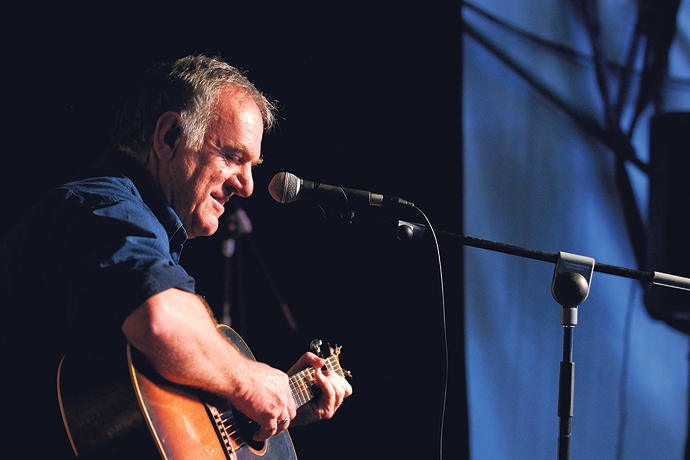 One of England's legendary singer/songwriters is calling it a day and the Joan Sutherland Performing Arts Centre is just one of the stops on his final farewell concert tour of Australia.

Ralph McTell is a prolific and gifted songwriter and virtuoso guitarist; he has amassed an impressive back catalogue of over 350 songs, including his most famous song, 'Streets of London'.
Ralph's 1974 release of the now iconic 'Streets of London' earned him a prestigious Ivor Novello Award and sold millions of copies around the world.
'Streets of London' has gone on to become one of the most popular songs in music history covered by hundreds of performers including Sinead O'Connor, Sir Cliff Richard and Cleo Laine.
But 'Streets of London' wasn't Ralph's only big number. Who can forget his other great songs – 'From Clare To Here, 'Factory Girl', 'The Ferryman', 'Eight Frames A Second' and 'Nanna's Son'.
In a career spanning more than 45 years, Ralph has performed across four continents and alongside music royalty such as Jimi Hendrix, Joan Baez, Leonard Cohen, Donovan, Steeleye Span, Danny Thompson, Richard Thompson, The Everly Brothers and Fairport Convention.
He's also collaborated on a variety of projects with artists such as comedian and close friend Billy Connolly.
Ralph McTell is one of the great storytellers and a breathtaking guitarist who invites the audience into a unique world weaving narrative that is both significant and poignant.
The Joan's Head Music Producer, Valda Silvy, told FYI earlier this year, what it means to have an artist of Ralph's calibre performing at The Joan.
"A lot of young people may not have heard of Ralph McTell but I myself was brought up on the 'Streets of London' and it's very exciting to have the man himself performing his signature song at The Joan," she said.
When Ralph hits the stage next week, this will be the last chance audiences will have to see this revered artist perform live in Australia.
His tour will showcase material from his latest album 'Somewhere Down The Road' and from the Bob Dylan birthday tribute 'Don't Think Twice It's All Right', along with some old favourites, including 'Streets of London'.
Don't miss your last chance to see the great Ralph McTell live at the Joan Sutherland Performing Arts Centre next Saturday, April 28 at 8pm.
Tickets are $49 for adults, $45 concessions and $40 each for groups of 10 or more.
To book or for more information call 4723 7600 or visit www.jspac.com.au.
Don't miss this last chance to see such a legendary performer in Penrith!