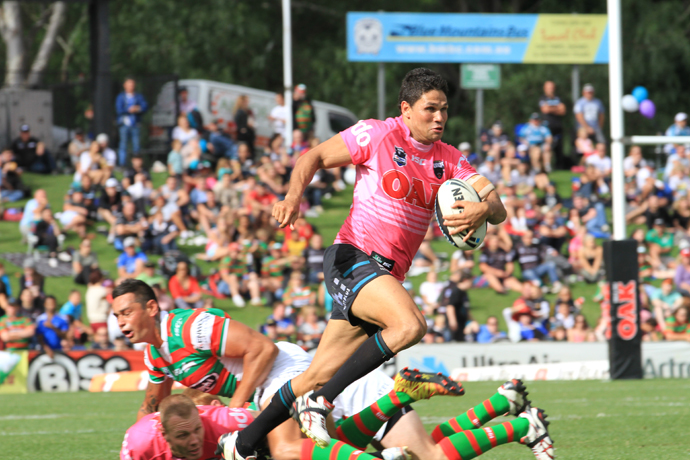 Every NRL contest is defined by moments. Some make you cheer, while others make you groan. Some turn the tide of the contest, while others neatly sum up the day's performance. And some are simply those indefinable moments that make rugby league so special.
Here we look at five moments that defined the Panthers vs. Rabbitohs game:
1. 1st minute – Burns knocks on from kick-off
Not too often you see a turning point so early in the match, but it's hard to argue with this one. The Rabbitohs kick off and Travis Burns makes an absolute meal of the take, turning it over straight away. Just two tackles later, Roy Asotasi crosses to score a soft opening try. That knock-on sets the tone for the day, the Panthers giving far too much rope to a Rabbitohs outfit whose energy levels were high.
2. 13th minute – Taylor pulls off some magic
The Rabbitohs are already 12-0 up and dominating field position. Stepping into dummy half on the left flank, Dave Taylor cuts inside and spies some space in the in-goal. He drops the ball on the toe, races through at speed and beats Lachlan Coote to the prize, grounding it just before the dead-ball line. Not too many 120kg blokes that could pull off a play like that.
3. 32nd minute – Fancy footwork from Burns
Despite the poor start, Penrith somehow get themselves back into the contest. Some razzle-dazzle play takes the Panthers from one side of the field to the next, and with the Rabbitohs on the back foot they win a penalty. Two tackles later the ball comes to Burns at first receiver, who shows tremendous footwork at the line to beat two Rabbitohs and cross untouched, atoning for his earlier mistake.
4. 37th minute – McKendry hits Reynolds late
Now 18-12 down, the Panthers are looking to head into half-time trailing by a single converted try. However, that notion is put to pasture when Sam McKendry charges recklessly at Adam Reynolds' legs as he puts the ball up for a bomb. The tackle draws an immediate penalty, Souths take the two, and all of a sudden the deficit is eight. To make matters worse, Chris Armit gives away the exact same penalty one minute later to extend the gap to 10.
5. 41st minute – Jennings concedes silly penalty
Without a doubt, Penrith need to be the first team to score in the second half. That pursuit is threatened, however, when Michael Jennings gives away a silly penalty on the first tackle after the restart, failing to let Andrew Everingham to his feet. Following the touch finder, the Rabbitohs cross when a rampaging Greg Inglis proves unstoppable on the left. Poor discipline to start the half, and there's no coming back from here.